5 Leadership Lessons: Scott Berkun on Public Speaking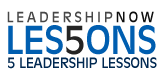 Even if you don't speak professionally, you will find Scott Berkun's
Confessions of a Public Speaker
, helpful in navigating any speaking situation. Berkun is refreshingly candid about his own mistakes and successes. It is an entertaining and practical behind-the-scenes look at the speaking profession; the good and the bad. He shares what has worked and what hasn't in getting over the fear of speaking, creating a talk that people want to hear, and what to do when things go wrong.

Most people listening to presentations around the world right now are hoping their speakers will end soon. That's all they want. They're not judging as much as you think, because they don't care as much as you think. Knowing this helps enormously. …The things speakers obsess about are the opposite of what the audience cares about. They want to be entertained. They want to learn. And most of all, they want you to do well. Many mistakes you can make while performing do not prevent those things from happening. It's the mistakes you make before you even say a word that matters more. These include the mistakes of not having an interesting opinion, of not thinking clearly about your point, and of not planning ways to make those points relevant to your audience. Those are the ones that make the difference.

No matter how much you hate or love this book, you're unlikely to be a good public speaker. The marketing for this book likely promised you'd be a better speaker for reading it. I think that's true on one condition: you practice (which I know most of you won't do). Most people are lazy. I'm lazy. I expect you're lazy, too. There will always be a shortage of good public speakers in the world, no matter how many great books there are on the subject. It's a performance skill, and performance means practice.

The easiest way to be interesting is to be honest. People rarely say what they truly feel, yet this is what audiences admire most. If you can speak a truth most people are afraid to say, you're a hero.

All good public speaking is based on good private thinking. …This means the difference between you and JFK and Martin Luther King has less to do with your ability to speak—a skill all of us use hundreds of times every day—than it does the ability to think and refine rough ideas into clear ones.

Avoiding Boredom. A speaker must set the pace for the audience if he wants to keep their attention. … Think of your opening minute as a movie preview: fill it with drama, excitement, and highlights for why people should keep listening. Be confident in what you say and do. If your talk consists of several problems important to the audience, and you promise to release the tension created by those problems by solving each one, you'll score big.
More Scott Berkun on Twitter / Web
Posted by Michael McKinney at 09:37 PM
Permalink | Comments (0) | This post is about Communication