Sebastian Coe On Creating a Winning Culture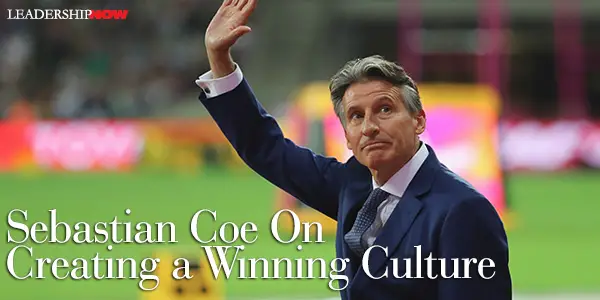 Sebastian Coe, Olympic gold medalist, politician, business leader and chairman of the London Organizing Committee for the 2012 Olympic Games, has written an inspiring book on the mental preparation required for winning in any endeavor.
The Winning Mind
is a fast-paced collection of life experience that offers evocative insights and expert coaching.

Coe believes that leaders are shaped by their "environment, by their ambition, by their role models, by the support they are given as they progress through life and by sheer determination. Our aim must always be that there should be no limit to what an individual from any background can achieve with focus and application — provided they recognize and grab their opportunity with both hands."
Coe says that teams are most productive when they understand the part they play in achieving the final outcome. This requires very clear leadership. "Part of this is ensuring that the work culture is constructive, positive, inclusive and constant." He offers this advice for creating a winning culture:
It means encouraging open and honest communication
It means being aware of when to lead and when to allow people to make their own decisions about the most appropriate course of action
It means making time for people to ask questions. An effective leader will always be prepared to discuss the rational behind how and why things are being done in a particular way. You can tell a lot about someone form the kinds of questions they ask. Listening to your team is a useful way to identify tomorrow's managers and leaders.
It means allowing people to take calculated risks – within their own area of responsibility – even if it means the risk of failure (provided that failure can be contained). There are times to act and there are times to let things roll. (It's a very instinctive thing.)
It also means paying close attention to the quality of the physical environment within which people work. An effective team needs room to think, breathe, talk and work. These days, remote working and flexible working hours are not only possible, they can enhance productivity too. If managers trust their people, man different work styles are possible.
It means encouraging people to maintain balance in their lives
Coe says that a leader is really working to his own obsolescence. "You know you are doing a good job if the right decisions are being made even when you are not present. As my coach once said to me, 'I know my job is done, because you did exactly what I would have asked you to do had I been there.'"
How well are you nurturing the conditions necessary to be able to put complete trust in your team?
* * *


Like us on
Instagram
and
Facebook
for additional leadership and personal development ideas.
* * *

Posted by Michael McKinney at 03:27 PM
Permalink | Comments (0) | This post is about Management , Teamwork