5 Leadership Lessons: Transparency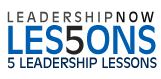 In a series of three essays, authors Warren Bennis, Daniel Goleman, James O'Toole and Patricia Biederman, illuminate what it means to be transparent in a world where technology makes transparency all but inevitable. The reality is that we can never assume that we are alone or unwatched.

  The leaders who will thrive and whose organizations will flourish in this era of ubiquitous electronic tattle-tales are the ones who strive to make their organizations as transparent as possible.

  Legislation alone cannot make organizations open and healthy. Only the character and will of those who run them and participate in them can do that. The first time a top executive blows up or punishes someone delivering bad news, a norm is established. If leaders regularly demonstrate that they want to hear more than incessant happy talk, and praise those with the courage to articulate unpleasant truths, then the norm will begin to shift toward transparency.

  Any time an organization makes a seriously wrong decision, its leaders should call for an intensive postmortem. Such learning opportunities are too often overlooked. The tendency is simply to call on the public relations department to spin the matter, to make another inadequately thought-out decision, and perhaps to scapegoat, even fire, a few staff members.


  All of us would do well to reflect on how receptive we are to the suggestions and opinions of others and alternate points of view. Leaders need to question their willingness to hear certain voices and not others. They need to make a habit of second-guessing their enthusiasms as well as their antipathies, since both can cloud their judgment.

  Indeed on of the most dangerous myths of modern organizations is that it is better to make a bad decision than no decision. Instead of mythologizing the leader who acts quickly or on hunches, we should cultivate leaders who are not afraid to be labeled wishy-washy when prudent caution and additional study are called for.
Posted by Michael McKinney at 10:18 PM
Permalink | Comments (0) | This post is about Ethics , Five Lessons