5 Leadership Lessons: James M. Kilts on Building the Right Team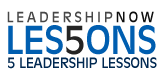 In his instructive memoir
Doing What Matters
, James Kilts gives credit to his team for the turnaround he engineered at Gillette. Picking the right people is key to the success of any team. Here are some of his thoughts on building the right team.

Effort is the price of admission. Everyone has to work hard, usually very hard. But if that effort doesn't turn into results, something is wrong. Perhaps with the objectives or targets that were set. Or with the actions being pursued. Or maybe with the person involved. Whatever it is, effort without results indicates a problem that must be addressed.

Former Kraft CEO Mike Miles said, "We had a rule at Kraft that we were not going to hire any self-centered jerks." Mime believes that there are enough smart people in the world so "you could pass up the smart jerks and wait for a smart, nice person to come through the door. If you did that you would have a society or culture . . . where people enjoyed their cohorts, [and] where they looked forward to coming to work every day."

Weed out bad actors. Often, these were self-absorbed people who wanted to run a fiefdom in which their word was unquestioned. They were self-promoters who had no interest in developing people their people or working for corporate goals. Meeting individual targets and achieving personal self-fulfillment defined their efforts.

I especially like battle-tested managers. People who have had an easy road through there career and never ran into a tough business situation can be unreliable and unpredictable. If you observe someone when they are going through a difficult business situation, you learn a lot. You know if they can keep their composure, think clearly, and deliver the facts, honestly and with transparency, regardless of how bad the news.

The team aspect of leadership cannot be overstated. The team must be committed to the leader, but even more important, the leader must be committed to the team and to goals that go beyond your own self interest. You must believe in and be committed to the corporate objectives, to organizational goals, and you must give them a top priority.
Posted by Michael McKinney at 10:46 AM
Permalink | Comments (0) | This post is about Five Lessons , Teamwork