The Teacher Can Only Be a Help or An Impediment To Learning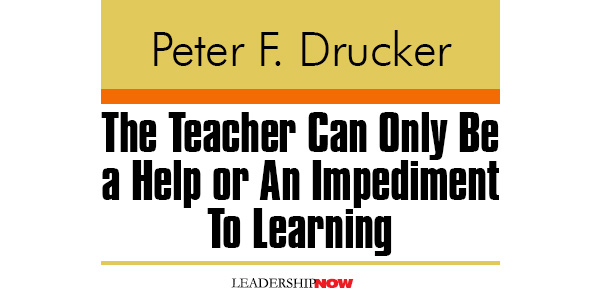 IN 1969, Peter Drucker published the leadership classic, The Age of Discontinuity: Guidelines to Our Changing Society. In a discussion on the crisis in education, he argues that we don't need more money, we need better methodology. We need creativity to improve productivity in the classroom.
Few teachers spend in their entire teaching careers as much time or thought on preparing their classes as in invested in the many months of writing, drawing, acting, filming, and editing one thirty-second commercial. [The commercial] is indeed the prototype of the ideal "program" with its three key elements: effective sequence of the material, validation through repetition, and self-motivation of the learner through pleasure. A level of teaching that was acceptable to older generations, who had no standards of comparison, dissatisfies the children of the television age, bores them, offends them.



Psychologists have proved that children vary but little in their learning abilities. Information, however, will only be learned if it is presented as a "program." This means, first, that the material has to be in a sequence in which one piece of information leads to the next piece to be learned. It means, second, that the arrangement must show clear purpose—the sequence must make sense to the student. It means, third, that what has been learned earlier has to be repeated again and again, and applied again and again; it has to be reaffirmed or else it is forgotten.

The motivation, the incentive, the reward for the acquisition of information must be built into the program itself. External rewards are not motivators. At every step the learner must receive satisfaction from the act of learning and from doing it right.

Learning can only be done by the learner. It cannot be done by the "teacher." The teacher can only be a help or an impediment to learning. The pupil who needs external pushing and supervision for learning will not learn. All the information, all the affirmation, and all the motivation should lie in the process of learning itself.

Teaching has a lot more to do with perception than it has to do, apparently, with intellect.
How well do your presentations, your training, meet these criteria? If we are boring people, they will stop learning.
* * *


Like us on
Instagram
and
Facebook
for additional leadership and personal development ideas.
* * *

Posted by Michael McKinney at 09:10 AM
Permalink | Comments (0) | This post is about Education