My Life Feels Like a Three-Ring Circus

Here's a book for organizations and individuals that struggle with "getting it all done." That is to say, nearly all of us. Authors Jones Loflin and Todd Musig have put together a memorable and fast-paced story in
Juggling Elephants
. By bringing out principles designed to help you juggle the acts in your life, and demonstrating through examples, practical tools being applied in the life of the main character, Mark, this book delivers. Here are several of the principles in brief:

The result of trying to juggle elephants is that no one, including you, is thrilled with your performance.

The ringmaster cannot be in all three rings at once. "I have to give my full attention to the ring I am in an, when it's time, I must move to the other ring as quickly as possible" said the ringmaster.

The key to the success of the circus is having quality acts in all three rings. What ring should you be focusing in on right now—work, relationships or self?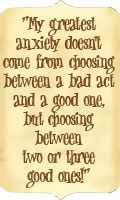 There is no shortage of acts for the circus.
Every act must serve a purpose.
"Choosing acts based on your purpose works best when it becomes a habit. It's easy to make a wrong choice based solely on emotion, laziness, convenience, or pressure from others who don't have a good understanding of your purpose. No matter who we are, we can't do it all. That is why it is essential that every act must serve a purpose." Tip: Leave room for interruptions.

The relationship between the ringmaster and the performers affects the quality of the circus. People have needs that extend way beyond the obvious ones. "An effective animal trainer recognizes that discipline is a small part of the training process. Getting to know the animal is much more important. Once he understands the animal, he can
work with
the animal's personality instead of always trying to force the desired behavior. It's the same with people. Once you get to know an individual, you can better understand how to fully engage their energies to accomplish a specific goal of task."

Intermission is an essential part of creating a better circus performance. "Intermission is a time for the audience to mentally relax, physically stretch, and be better prepared for the second half." We all need to regroup, renew and prepare.

Your circus is only as good as your next performance. Get feedback and actively pursue learning experiences. Take the time to get your
act
together.