Six Disciplines for Excellence: Decide What's Important
Now in its new and improved second edition,
Six Disciplines for Excellence
by Gary Harpst is still one of the best field guides to business. It lays out a practical methodology to help you stay aligned with your mission using sound foundational principles. Through a series of repeatable annual, quarterly, weekly and daily cycles, this methodology will help you to successfully guide your business and quite frankly, your personal life as well. Not surprisingly, you will find that these disciplines are applicable to your personal life, because we are all subject to some of the same pressures that are present in any other system.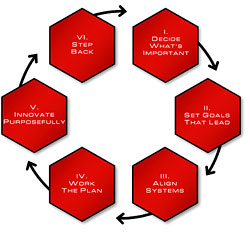 I find that the most vital principle presented here begins with step one:
Decide What's Important
. Its importance is underscored in the fact that it is woven throughout the process and culminates in step six. The practice of repeatedly stepping back and asking how did we get here? and why are we doing what we are doing? is vital to sustaining any system.
While this is probably one of the most intellectually understood behaviors, it is in practical terms, likely the most overlooked discipline he presents here.
It is overlooked because the pressures of the present lead us into directions and practices that we never intended and are often counter-productive. So we put it off, intending to address it later. Unfortunately, later rarely comes and the inconsistencies we create only breed more inconsistencies. Unnecessary actions and behaviors hang on long after their usefulness is gone.

In business and life, we need to continually step back and reconsider what we are doing. Sometimes life happens – things happen we can't plan on - and in the swirl of it all, we find ourselves doing that which we otherwise would not. His methodology helps to you to become more proactive and eliminate the tangents that distract you from what you should be doing.
Harpst writes:
Businesses are "systems" and they're subject to forces similar to entropy. Once a small business makes plans, the chaos of everything changing around it gradually erodes those plans, like the warm water melts the ice. An organization must have a systematic and ongoing way to offset those forces, or it will eventually become ineffective to the point that its survival will be at stake. Or, using a different analogy, Stephen Covey once said, "We are too busy driving to get gas."
Posted by Michael McKinney at 08:49 AM
Permalink | Comments (0) | This post is about Books , Management