Calls for Leadership: The Failed States Index 2007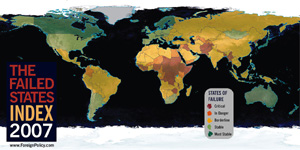 The
Fund for Peace
and
Foreign Policy Magazine
has just released the
Failed States Index
. It is a sobering survey of 177 countries ranked in order of their vulnerability to violent internal conflict and societal deterioration. It is based on 12 social, economic, political, and military indicators. (You can click on the map above to view a larger image detailing the status of various nations of the world, including your own.)
The third annual Index found the greatest improvements over the last year in Liberia, Indonesia, Democratic Republic of the Congo and Bosnia. Unfortunately, the risk of failure is running higher than last year in Lebanon, Somalia, Equatorial Guinea, and Niger. Although these countries may seem world's away, their problems have consequences for all of us.
Failing States have one thing in common—bad leadership.
Foreign Policy
concludes, "Many states must endure poverty, corruption, and natural disasters. But,
for the weak, there is nothing more costly than a strongman calling the shots.
" Billions in foreign aid and security are no match for bad leadership. Effective leadership can reverse a states slide to failure.
Three editorials from the last two days, speak to the leadership issue behind these problems. First, here are some comments from
The Daily Star
in
Lebanon
titled, "If Lebanon becomes a failed state again, failed leadership will be to blame:"
Lebanon's slide downward on the scale toward failure was more pronounced than that of any other country in the world. Who or what is to blame for the fact that Lebanon is once again rapidly on its way to becoming a basket case? Yes, the war with Israel created problems, but the leaders of Lebanon have compounded those "difficulties" and transformed them into an utter disaster. Leaders on both sides of the political divide are guilty of playing solely to their respective supporting audiences and ignoring everyone else. Not one has risen to the challenge of being a leader for all the Lebanese. [There exists a] paralyzing impasse that has been brought on by their political leaders' shared predilections for hubris and maximalism.
From
AllAfrica Global Media
, we have this opinion from Nurudeen Jattau in
Nigeria
:
It is needless to say that the tragedy of the contemporary nation-state of Nigeria is the seeming absence or the lack of visionary leadership in all spheres of governance. This precisely, is the singular reason why analysts are agreed that Nigeria may never reach anything close to its full potential as a nation. All things considered, and whichever way the pendulum swings, we must understand and appreciate the fact that leadership is invariably a means to an end, and not an end in itself.
Consider finally, an editorial by Fouad Al-Obaid in the
Kuwait Times
:
If one studies history and the civilizations that preceded us, one will most certainly not come across common names. However leaders on the other hand, do end up in the pages of history for several reasons. They do so when their failure is total and their incompetence is obvious to all. Just as much as they do so when their bravery, their tactics, their leadership capability along with their capacity to move minds and hearts in the most turbulent times is put to test and they succeed.

In the Arab World we seem to be lacking true leadership capabilities at least in modern times. Today, we need to find a source of inspiration in leaders that will set the path for a renewed socio-economic development scheme. We need people that have visions, leaders that are willing to fight in order to craft reality out of a vision. If one looks at the development of Qatar and Dubai, one can credit their leadership with bold vision which has projected their otherwise semi-arid desert lands into global hubs where transport, trans-shipment, and multinational corporations have established their home base in.



[T]he lessons that need to be extracted from such success stories is that visions can become reality and in that field we are either lacking vision or having a hard time executing it properly. In either case, we clearly are doing something wrong. We today need leaders that are willing to perhaps sacrifice themselves for the better good of society. Reforms are never easy and it takes a strong leader to execute them.
Foreign Policy
would agree with Mr. Al-Obaid. They write that effective leadership doesn't necessarily make a leader popular. "But then, such leadership is exactly what more failing states need:
a head of state who chooses continued reforms over his own power and recognition.
"
I am reminded of something John Lukacs wrote in 1993, "
The great and enduring problems are political, not economic. They involve the lust for power, not for money.
(But then, this has been true of mankind ever since Adam and Eve, misunderstood by Adam Smith as well as by Karl Marx.)" You don't have to look too hard to find applicable lessons here for any leadership role we find ourselves in.
Posted by Michael McKinney at 08:47 AM
Permalink | Comments (0) | This post is about Government , Leaders , Leadership