Looking for Leaders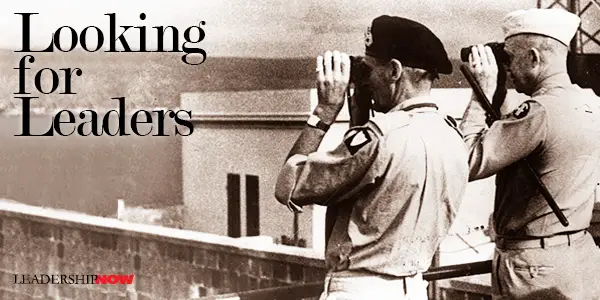 W
HERE TO FIND good leaders has always been an issue. In our search, we unfortunately, find it easiest to gravitate to the
role players
— those people who appear to have the qualities we are looking for but really just are good at playing the "game." They have been around long enough and possess enough ambition to get themselves noticed. These people help to produce the cynicism found in many organizations because they are not effective leaders but effective self-promoters. Once given a title they struggle to keep up because they just don't have the substance required for the job. General Dwight Eisenhower writes about these people with
fake reputations
, as he calls them, to his friend General Prichard. This is excerpted from Alan Axelrod's book,
Eisenhower on Leadership
:
This is a long tough road we have to travel. The men that can do things are going to be sought out just as surely as the sun rises in the morning.


—Letter to Vernon E. Prichard
August 27, 1942
In a letter to a friend and fellow commander Vernon E. Prichard, Ike took up the theme of leadership he had discussed in his letter to Scrappy Hartle just two days earlier. "Fake reputations," he wrote, "habits of glib and clever speech, and glittering surface performance are going to be discovered and kicked overboard." Those who remain are people capable of "solid, sound leadership," possessed of "inexhaustible nervous energy to spur on the efforts of lesser men, and iron-clad determination to face discouragement, risk and increasing work without flinching." Those who remain are the people who also possess " a darned strong tinge of imagination—I am continuously astounded by the utter lack of imaginative thinking among so many of our people that have reputations for being really good officers." Finally, those who escape being kicked overboard are those who are most dedicated and "able to forget . . . personal fortunes. I've relived two seniors here because they got to worrying about 'injustice, ' 'unfairness,' prestige.'"
Need will find leaders, but Ike counseled his friend Prichard to get a jump on need by starting to look right now. "While you are doing your stuff from day to day, constantly look and search among your subordinates for the ones that have those priceless qualities in a greater or lesser degree. . . . [Y]ou will find greater and greater need for people upon whom you can depend to take the load off your shoulders."
* * *


Like us on
Instagram
and
Facebook
for additional leadership and personal development ideas.
Posted by Michael McKinney at 09:51 AM
Permalink | Comments (0) | This post is about Books , Leadership , Leadership Development