Poke the Box
Seth Godin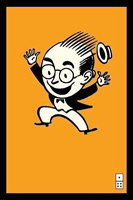 Format:
Hardcover, 96 pp.
ISBN:
9781936719006
Publisher:
The Domino Project
Pub. Date:
March 1, 2011
Average Customer Review:

For Bulk Orders Call: 626-441-2024

Description and Reviews
From
The Publisher:
We send our kids to school and obsess about their test scores, their behavior and their ability to fit in.
We post a help wanted ad and look for experience, famous colleges and a history of avoiding failure.
We invest in companies based on how they did last quarter, not on what they're going to do tomorrow.
So why are we surprised when it all falls apart?
Our economy is not static, but we act as if it is. Your position in the world is defined by what you instigate, how you provoke, and what you learn from the events you cause. In a world filled with change, that's what matters — your ability to create and learn from change.
Poke the Box
is a manifesto about producing something that's scarce, and thus valuable. It demands that you stop waiting for a road map and start drawing one instead. You know how to do this, you've done it before, but along the way, someone talked you out of it.
We need your insight and your dreams and your contributions. Hurry.

Reviews
"Seth Godin may be the ultimate entrepreneur for the information age."
—Business Week
"It's easy to see why people pay to hear what he has to say."
—Time Magazine
"Embarkable."
—Annie Duke, world poker champion, author and talk show host
"Rut-reversing."
—Sarah Jones, playwright
"Essential."
—Jill Greenberg, photographer, manipulator.org


Reader's Index
Send us your favorite quotes or passages from this book
.
• "It's extremely difficult to find smart people willing to start useful projects. Because sometimes what you start doesn't work. The fact that it doesn't work every time should give you confidence, because it means you're doing something that frightens others." Pg. 28

About the Author
Seth Godin
is the author of twelve bestselling books, a popular blogger and a successful entrepreneur. His books have been translated into more than 35 languages. He founded Squidoo.com, one of the hundred most popular websites in the United States. Godin has been a columnist for Fast Company and the Harvard Business Review and has given thousands of keynote speeches for companies, governments and non-profit organizations.

Find Items On Similar Subjects

Tribes
: We Need You to Lead Us

Linchpin
: Are You Indispensable?

Meatball Sundae
: Is Your Marketing out of Sync?

The Dip
: A Little Book That Teaches You When to Quit (and When to Stick)

Small Is the New Big
: and 193 Other Riffs, Rants, and Remarkable Business Ideas

Purple Cow
: Transform Your Business by Being Remarkable