Tribes
: We Need You to Lead Us
Seth Godin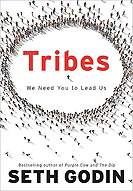 Format:
Hardcover, 160pp.
ISBN:
9781591842330
Publisher:
Portfolio Hardcover
Pub. Date:
October 16, 2008
Average Customer Review:

For Bulk Orders Call: 626-441-2024

Description and Reviews
From
The Publisher:
If you're looking at this page this far ahead of publication, you're probably a member of Seth Godin's tribe. And if so, you already know what this book is about.
You know about waiting in line at an Apple store, or the look on a fellow Deadhead's face.
You know about the way it feels to go back to the church where you grew up.
You know about the real power of a brand.
According to Godin, Tribes are groups of people aligned around an idea, connected to a leader and to each other. Tribes make our world work, and always have.
The new opportunity is that it's easier than ever to find, organize, and lead a tribe. The Web has enabled an explosion of all kinds of tribes -- and created shortage of people to lead them. This is the growth industry of our time.
Tribes
(the book) will help you understand exactly what's at stake, and why YOU can and should lead a tribe of your own.

Reviews
Short on pages but long on repetition, this newest book by Godin (
Purple Cow
) argues that lasting and substantive change can be best effected by a tribe: a group of people connected to each other, to a leader and to an idea. Smart innovators find or assemble a movement of similarly minded individuals and get the tribe excited by a new product, service or message, often via the Internet (consider, for example, the popularity of the Obama campaign, Facebook or Twitter). Tribes, Godin says, can be within or outside a corporation, and almost everyone can be a leader; most are kept from realizing their potential by fear of criticism and fear of being wrong. The book's helpful nuggets are buried beneath esoteric case studies and multiple reiterations: we can be leaders if we want, "tribes" are the way of the future and change is good. On that last note, the advice found in this book should be used with caution. "Change isn't made by asking permission," Godin says. "Change is made by asking forgiveness, later." That may be true, but in this economy and in certain corporations, it may also be a good way to lose a job. (Oct.)
—Publishers Weekly, Copyright © Reed Business Information, a division of Reed Elsevier Inc. All rights reserved.

About the Author
Seth Godin
is the author of ten international bestsellers, including the New York Times bestseller The Dip. His books have been translated into more than twenty-five languages and include Permission Marketing, Purple Cow, and Meatball Sundae. He is also the founder and CEO of Squidoo.com (a huge and fast-growing tribe) and the most popular business blogger in the world.

Find Items On Similar Subjects

Linchpin
: Are You Indispensable?

Meatball Sundae
: Is Your Marketing out of Sync?

The Dip
: A Little Book That Teaches You When to Quit (and When to Stick)

Small Is the New Big
: and 193 Other Riffs, Rants, and Remarkable Business Ideas

Purple Cow
: Transform Your Business by Being Remarkable