Small Is the New Big
: and 193 Other Riffs, Rants, and Remarkable Business Ideas
Seth Godin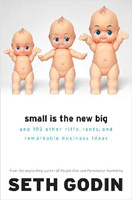 Format:
Hardcover, 352pp.
ISBN:
9781591841265
Publisher:
Portfolio Hardcover
Pub. Date:
August 17, 2006
Average Customer Review:

For Bulk Orders Call: 626-441-2024

Description and Reviews
From
The Publisher:
More provocative business thinking from the bestselling author of
Purple Cow
and
All Marketers Are Liars
As one of today's most influential business thinkers, Seth Godin helps his army of fans stay focused, stay connected, and stay dissatisfied with the status quo, the ordinary, the boring. His books, blog posts, magazine articles, and speeches have inspired countless entrepreneurs, marketing people, innovators, and managers around the world.
Now, for the first time, Godin has collected the most provocative short pieces from his pioneering blog—ranked #70 by Feedster (out of millions published) in worldwide readership. This book also includes his most popular columns from Fast Company magazine, and several of the short e-books he has written in the last few years.
A sample:
Bon Jovi And The Pirates
Christmas Card Spam
Clinging To Your Job Title?
How Much Would You Pay to Be on Oprah's Show?
The Persistence of Really Bad Ideas
The Seduction of "Good Enough"
What Happens When It's All on Tape?
Would You Buy Life Insurance at a Rock Concert?
Small is the New Big
is a huge bowl of inspiration that you can gobble in one sitting or dip into at any time. As Godin writes in his introduction: "I guarantee that you'll find some ideas that don't work for you. But I'm certain that you're smart enough to see the stuff you've always wanted to do, buried deep inside one of these riffs. And I'm betting that once inspired, you'll actually make something happen."

Reviews
In what's likely to be the next in a string of bestselling marketing guides (after Purple Cow), Godin compiles entries from his popular blog. Many are only a few paragraphs long, though he also adds longer entries, from his Fast Company column, to the mix. The pieces are arranged alphabetically by title rather than chronologically, leading to occasional choppiness, but Godin's ability to hone in on key issues remains intact. Following up on the themes of his earlier books, he reminds readers that the first key to successful marketing is to produce something remarkable and let it grow. "If your idea is great, people will find you," he advises. "[I]f your target audience isn't listening, it's not their fault, it's yours." He urges people to take control of their creative lives by taking responsibility for tough decisions and pushing themselves to make bolder choices. (His advice to McDonald's, for example, includes free wireless Web access at every restaurant.) The appendix contains two lengthy essays on Web design and blogs that were previously distributed as e-books. These are a more polished than the casual main entries, but still exhibit the spontaneous energy that has earned Godin so many loyal fans. (Aug. 17)
—Publishers Weekly, Copyright © Reed Business Information, a division of Reed Elsevier Inc. All rights reserved.

About the Author
Seth Godin
is the author of seven international bestsellers:
Permission Marketing, Unleashing the Ideavirus, The Big Red Fez, Survival is Not Enough, Purple Cow, Free Prize Inside!
, and
All Marketers are Liars
. He is also the editor of
The Big Moo
and one of the most popular business bloggers.

Find Items On Similar Subjects

The Dip
: A Little Book That Teaches You When to Quit (and When to Stick)

Purple Cow
: Transform Your Business by Being Remarkable

All Marketers Are Liars
: The Power of Telling Authentic Stories in a Low-Trust World

Unleashing the Ideavirus

Permission Marketing
: Turning Strangers Into Friends, and Friends into Customers