The Dip
: A Little Book That Teaches You When to Quit (and When to Stick)
Seth Godin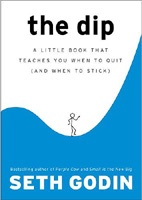 Format:
Hardcover, 86pp.
ISBN:
9781591841661
Publisher:
Portfolio Hardcover
Pub. Date:
May 10, 2007
Average Customer Review:

For Bulk Orders Call: 626-441-2024

Description and Reviews
From
The Publisher:
The best business books change the way you look at something - forever.
The Tipping Point, The Long Tail
, and
Purple Cow
are simple books about simple topics...but they changed the way millions do their jobs.
Every new project (or career or relationship) starts out exciting and fun. Then it gets harder and less fun, until it hits a low point - really hard, really not fun. At that point, you might be in a Dip (which will get better if you keep pushing) or a Cul-de-sac (which will never get better, no matter how hard you try). The hard part is knowing the difference and acting on it.
According to bestselling business author Seth Godin, what really sets superstars apart from everyone else is the ability to give up on Cul-de-sacs while staying motivated in Dips. Winners quit fast, quit often, and quit without guilt - until they commit to beating the right Dip for the right reasons.
This is equally true for entrepreneurs, pop singers, weightlifters, and car salesmen. Today's world rewards the people and organizations that are the best in the world at what they do. If you can be #1 in your niche, you'll get more than your fair share of profits, glory, and job security. But you'll never be #1 at anything without picking your shots very carefully.
The Dip
is a short, fun-to-read book in the tradition of
Fish
, packed with powerful ideas and a graph that changes everything. It will forever alter the way people think about quitting - and success.


Reader's Index
Send us your favorite quotes or passages from this book
.
• "
Strategic
quitting is the secret of successful organizations. Reactive quitting and serial quitting are the bane of those that strive (and fail) to get what they want. And most people do just that. They quit when it's painful and stick when they can't be bothered to quit." Pg. 16

About the Author
Seth Godin
is the author of seven international bestsellers:
Permission Marketing, Unleashing the Ideavirus, The Big Red Fez, Survival is Not Enough, Purple Cow, Free Prize Inside!
, and
All Marketers are Liars
. He is also the editor of
The Big Moo
and one of the most popular business bloggers.

Table of Contents
| | | |
| --- | --- | --- |
| | Being the Best in the World is Seriously Underrated | 3 |
| | If You're Not Going to Get to #1, You Might As Well Quit Now | 59 |
| | The Best in the World | 79 |
| | Acknowledgements | 81 |

Find Items On Similar Subjects

Linchpin
: Are You Indispensable?

Small Is the New Big
: and 193 Other Riffs, Rants, and Remarkable Business Ideas

Purple Cow
: Transform Your Business by Being Remarkable

New Ideas from Dead CEOs
: Lasting Lessons from the Corner Office