Linchpin
: Are You Indispensable?
Seth Godin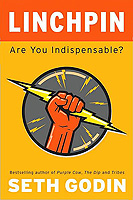 Format:
Hardcover, 256pp.
ISBN:
9781591843160
Publisher:
Portfolio Hardcover
Pub. Date:
January 26, 2009
Average Customer Review:

For Bulk Orders Call: 626-441-2024

Description and Reviews
From
The Publisher:
Why are some people easily outsourced, downsized, or freelanced into obscurity, while others have their pick of opportunities? In his most powerful book yet, Seth Godin argues that it's more essential than ever to become indispensable - to become a linchpin. Linchpins are the essential building blocks of great organizations: they invent, lead (regardless of title), connect others, make things happen, and create order out of chaos. They love their work and pour their best selves into it and turn each day into a kind of art - and, in today's world, they get the best jobs and the most freedom.
Godin shows that the key to being indispensable is overcoming the fears that hold most of us back. If you have you ever found a shortcut that others missed, seen a new way to resolve a conflict, or made a connection with someone others couldn't reach, then you have what it takes to become indispensable. It's time to stop complying with the system and draw your own map.

Reviews
Who is Seth Godin?
"It's easy to see why people pay to hear what he has to say. Godin is a marketer, but in the broadest sense of the word. He's interested in not simply how products are marketed, but also how people sell themselves and their ideas, and how new technology can be a game-changer."
—Time.com
"Thousands of authors write business books every year but only a handful reach star status and the A-list lecture circuit. Fewer still- one, to be exact-can boast his own action figure. . . . In the nearly ten years since his first bestseller, Godin has become a marketing phenom with a string of titles, including Purple Cow, Unleashing the Ideavirus, and his newest, Tribes. . . . Across [all] media, Godin delivers his combination of counterintuitive thinking and a great sense of fun."
—BusinessWeek.com
"The marketing expert is a demigod on the Web, a bestselling author, highly sought after lecturer, successful entrepreneur, respected pundit and high-profile blogger. He is uniquely respected for his understanding of the Internet, and his essays and opinions are widely read and quoted online and off."
—Forbes.com

About the Author
Seth Godin
, is the author of
Tribes, Purple Cow, Permission Marketing
, and many other international bestsellers that have changed the way business people think and act. He's the most influential business blogger in the world, and consistently one of the twenty-five most widely read bloggers in any category. He's also the founder and CEP of Squidoo (a successful internet company) and a very popular lecturer.

Find Items On Similar Subjects

The Dip
: A Little Book That Teaches You When to Quit (and When to Stick)

Tribes
: We Need You to Lead Us