Lead Your Boss
: The Subtle Art of Managing Up
John Baldoni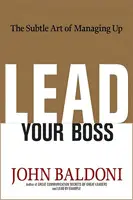 Format:
Paperback, 240pp.
ISBN:
9780814439005
Publisher:
AMACOM
Pub. Date:
October 14, 2009
Average Customer Review:


For Bulk Orders Call: 626-441-2024

Description and Reviews
From
The Publisher:
Every manager on the move wants to have influence at the top in order to get his or her ideas heard and ultimately acted upon. In
Lead Your Boss
, recognized leadership guru John Baldoni gives managers new—as well as tried-and-true—methods for influencing both their bosses and their peers, and giving senior leaders reasons to follow their lead. Featuring instructive stories based on real-life experiences from leaders at all levels,
Lead Your Boss
reveals proven strategies for:
Developing spheres of influence
Handling tough issues
Asserting oneself diplomatically
Putting the team first
Persuading up
Establishing trust
Using organizational politics to everyone's advantage
Inspiring others through-out the organization
Lead Your Boss
gives readers practical, tactical advice on becoming a key player in any organization, regardless of whether or not they have an office in the Csuite…YET.

Reviews
"John Baldoni is one of the organizational thinkers that I respect the most . . . . [This book] should be required reading for all middle managers!"
—Marshall Goldsmith, New York Times and Wall Street Journal #1 best-selling author of What Got You Here Won't Get You There and author or editor of 23 other books
"John Baldoni's accessible style and uncommon insights bring a fresh perspective to this urgent topic in particular and to management writing at large."
—Eric Hellweg, Editorial Managing Director, HarvardBusiness.org
"By focusing on tactical and practical steps managers can take to effect positive change, Lead Your Boss provides guidance for all those frustrated by bosses who are holding their teams back from achieving great results."
—Eric Harvey, Founder and President, Walk the Talk Co.; author of 26 leadership books including the best-sellers Walk the Talk…and Get the Results You Want and Leadership Secrets of Santa Claus
"Lead Your Boss explores the power of influence in ways that make developing it and implementing it doable. . . . Great insights!"
—John Bourbeau, CEO, Right Management/Great Lakes Region
"Lead Your Boss does a terrific job of helping people understand the difficult task of managing upward. Pragmatic tips help provide the tools to get the job done, and real-life stories help provide context for some of the ideas that John Baldoni presents."
—Jon V. Peters, President, The Institute for Management Studies
"Baldoni understands what it takes to be a leader and someone who can 'influence without authority,' and he puts it within reach in Lead Your Boss. His ideas are simple, clear, and easy to grasp—yet profound!"
—Don Vandergriff, Major, U.S. Army (retired); President, Maverick Leadership; and author, Manning the Legions of the United States


Reader's Index
Send us your favorite quotes or passages from this book
.
• "Leading up requires the ability to develop the talents of others; this is important for two reasons," writes Baldoni. "One, you need to demonstrate that you know how to lead others; and two, putting others into leadership positions gives you the time you need to think and act strategically, that is, to lead your boss and your team more effectively." Pg. 176

About the Author
John Baldoni
(Ann Arbor, MI) is an internationally recognized leadership consultant, speaker, and author of many books, including Lead by Example and Great Communication Secrets of Great Leaders. He was named one of the "30 Most Influential Leadership Gurus" for 2007 by www.LeadershipGurus.net. His leadership writings have appeared in BusinessWeek.com and FastCompany.com, and he has been featured or quoted in publications including the New York Times, USA Today, and Investor's Business Daily.

Table of Contents
| | | |
| --- | --- | --- |
| | | |
| | Acknowledgments | xi |
| | Prologue | 1 |
| | | |
| | PART I : What Does The Leader Need? | 9 |
| | STEP 1: Leading Up | 11 |
| | STEP 2: Thinking and Acting Strategically | 24 |
| | STEP 3: Pushing Back the Right Way | 54 |
| | | |
| | PART II : What Does The Team Need? | 79 |
| | STEP 4: Letting Others Create the How | 81 |
| | STEP 5: Breaking Down the Doors | 109 |
| | STEP 6: Working the System | 135 |
| | | |
| | PART III : What Can I Do To Help The Leader And The Team Succeed? | 151 |
| | STEP 7: Bending but Not Breaking | 153 |
| | STEP 8: Preparing Others to Lead | 171 |
| | STEP 9: Leading with Presence | 194 |
| | | |
| | The Smart Guide to Positive Push-Back | 207 |
| | | |
| | Notes | 211 |
| | Index | 219 |
| | About the Author | 226 |

Find Items On Similar Subjects

12 Steps to Power Presence
: How to Exert Your Authority to Lead

Lead By Example
: 50 Ways Great Leaders Inspire Results

Leading Up
: How to Lead Your Boss So You Both Win

The 360 Degree Leader
: Developing Your Influence from Anywhere in the Organization