Leading Up
: How to Lead Your Boss So You Both Win
Michael Useem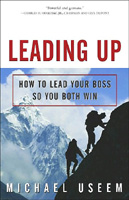 Format:
Paperback, 336pp.
ISBN:
9781400047000
Publisher:
Three Rivers Press
Pub. Date:
March 25, 2003
Average Customer Review:

For Bulk Orders Call: 626-441-2024

Description and Reviews
From
The Publisher:
Eight true stories show that Leaders today aren't just bosses, they're self-starters who take charge even when they haven't been given a charge. Upward leaders get results by helping their superiors lead. They make sure that good ideas don't die on the vine because a boss's understanding doesn't reach down deep enough into the organization. Upward leadership assures that advice arrives from all points on the corporate compass, not just from the top down. And it applies at every level: Even CEOs need to learn about leading up because they ultimately answer to their boards.
In
Leading Up
, Michael Useem offers instructive accounts of this vital and unexplored facet of leadership. Drawing on the extraordinary experiences of real people, Useem shows us what happens when those not in charge rise to the challenge, and also what happens when those who should step forward fail to do so:
Civil War generals openly disrespected and frequently misinformed their commanders in chief, with tragic consequences for both sides.
COO David Pottruck learned how to lead with his superiors at Charles Schwab & Co. in order to radically change Schwab's core business.
Had he been able to convince his superiors of the dire situation in Rwanda, United Nations commander Roméo Dallaire might have prevented the genocide that claimed 800,000 lives.
The CEOs of CBS, Compaq, and British Airways concentrated on leading down when they needed to lead up to their boards, too. The result: All three were fired.
U.S. Marine Corps general Peter Pace reconciled conflicting priorities while reporting to six bosses with varying agendas by keeping all of them informed and challenging them when necessary.
Mount Everest mountaineers admitted they might have protected themselves and others from harm during a fateful ascent if only they had questioned their guides' flawed instructions and decisions.
Even in government, representatives often need to first strike a deal, then lead their bosses to embrace it, as examples from the United States and Argentina illustrate.
No one ever had a tougher job of leading up than Old Testament prophets Moses, Abraham, and Samuel, who interceded with the ultimate authority.
Leading up is not the same as managing up. Managing up is running the office; leading up is taking the reins and exceeding what's expected. As hierarchies everywhere shed much of their rigidity, upward leadership at all levels becomes more possible—and more necessary.
Leading Up
is a call to action. It asks us to build on the best in everybody's nature, and it offers a pragmatic blueprint for doing so.

Reviews
"Often the best coaching a leader can receive is directly from the team he/she leads. Openness to their feedback is critical, and Professor Useem's new book provides many dramatic examples of successes and failures in this important dimension."
—Arthur Martinez, former chief executive officer of Sears, Roebuck & Co.
"Teaching your boss is the most important thing that anyone in business, government, or the nonprofit world needs to know.
Leading Up
is a must-read for everyone."
—Leonard A. Lauder, chairman, the Estée Lauder Companies, Inc.
"Professor Michael Useem has shown himself a master in the use of vignettes to teach us about leadership. In his latest book,
Leading Up
, he has again used reality, this time to discuss 'those who would dare to lead their leaders.' In today's fast-moving and often chaotic world, this book is a must-read. It will help you help your boss be the best he can be and in doing so, build a better organization and increase your value to that organization."
—General Charles C. Krulak, former commandant of the U.S. Marine Corps and senior vice chairman, MBNA Corporation
"Leadership is not just about telling people what to do. It is about building a common purpose—a goal—that everyone on the team works hard to achieve. To do that, leaders must understand that it is not just about them and their goals. It is about creating a group where voices are heard and help offered is help received.
Leading Up
shows how great leaders create groups that win."
—Joel Kurtzman, Global Lead Partner, Thought Leadership, PricewaterhouseCoopers
"The message afforded by
Leading Up
is powerful and germane as we continue to decentralize and empower our organizations. As Mike Useem says, 'If we expect our subordinates to furnish us with unvarnished, unbiased advice and unswerving support at times when it really counts, we need to have cultivated a culture that encourages and rewards them to do so.' His diverse selection of historical examples and his storytelling ability bring the concepts alive."
—Charles O. Holliday, Jr., chairman and chief executive officer, DuPont

About the Author
Michael Useem
is a professor of management and the director of the Center for Leadership and Change Management at the Wharton School of the University of Pennsylvania. His previous book,
The Leadership Moment: Nine True Stories of Triumph and Disaster and Their Lessons for Us All
, offers compelling accounts of leadership when it really counted.

Table of Contents
| | | |
| --- | --- | --- |
| | Introduction | 1 |
| 1 | Informing Your Commander | 7 |
| 2 | Convincing a Company to Turn Inside Out | 41 |
| 3 | Begging Your Boss to Untie Your Hands | 74 |
| 4 | Retaining the Confidence of Your Directors and Investors | 115 |
| 5 | Keeping Your Head When You Have Several Superiors | 151 |
| 6 | Guding Your Guide | 181 |
| 7 | Designing a Future Your Boss Can't Quite Envision | 212 |
| 8 | Persuading the Ultimate Authority | 248 |
| 9 | The Upward Leader's Calling | 279 |
| | Sources | 295 |
| | Acknowledgements | 307 |
| | Index | 309 |

Find Items On Similar Subjects

The Courageous Follower
: Standing Up to and for Our Leaders