Lead By Example
: 50 Ways Great Leaders Inspire Results
John Baldoni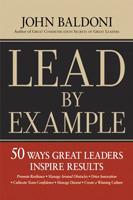 Format:
Paperback, 240pp.
ISBN:
9780814437643
Publisher:
AMACON
Pub. Date:
October 8, 2008
Average Customer Review:


For Bulk Orders Call: 626-441-2024

Description and Reviews
From
The Publisher:
Taking over the top job, whether it's the CEO of a company or the manager of a department, is never easy. When done the right way, it results in inspired leadership; when done the wrong way, it can lead to disaster. To be effective, the people in charge must give their team a reason to believe in their talents and their ability to get people to work together. Great leadership requires decisiveness, authority, conviction, compassion, and, most important, the ability to set the right example. It would seem easy, but it takes a lifetime of trying to put it into practice. In Lead by Example, recognized leadership guru John Baldoni reveals the traits and abilities leaders need to know to inspire others to follow them. Readers will learn how to:
listen for ideas • manage around obstacles • defuse tension • check their egos • stand up for what they believe in • manage crises • develop team confidence • recruit good people • deliver bad news • handle defeat • engage their enemies
Filled with examples of visionary leaders who have overcome their shortcomings and achieved greatness, Lead by Example will show readers how to build trust, drive results, and win the respect of the people they lead.

About the Author
John Baldoni
(Ann Arbor, MI) is an internationally recognized leadership consultant, speaker, and author of six books, including
Great Communication Secrets of Great Leaders
. He was named one of the "30 Most Influential Leadership Gurus" for 2007 by LeadershipGurus.net. He has been featured or quoted in many publications, including
USA Today, Chicago Tribune
, and
Investor's Business Daily

Table of Contents
Acknowledgments
Prologue
Part I: Set the Right Example
Lesson 1: It All Starts with Character
Lesson 2: Knowing What You Know (and Don't Know)
Lesson 3: Accountability: The Buck Stops Here
Lesson 4: Courage: Stand Up for What You Believe
Lesson 5: Check Your Ego
Lesson 6: Take a Hard Look in the Mirror
Lesson 7: Patience, Patience
Lesson 8: Make Your Presence Felt
Part II: Act the Part
Lesson 9: Communicate, Communicate, Communicate!
Lesson 10: Listening for Ideas
Lesson 11: Developing Questions
Lesson 12: Giving Feedback
Lesson 13: Decisiveness: Decide or Not
Lesson 14: Influence: Getting People on Board
Lesson 15: Influencing Without Authority
Lesson 16: Know How to Win
Lesson 17: Hang out the Lifelines
Lesson 18: Manage (and Lead)
Lesson 19: Managing by Inclusion
Lesson 20: Manage Around Obstacles
Lesson 21: Leading Innovation
Lesson 22: Moving from What to How
Lesson 23: Delegate (and Execute) for Results
Lesson 24: Upside-Down Leadership
Lesson 25: Make It Personal (Sometimes)
Lesson 26: Sustaining a Winning Culture
Part III: Handle the Tough Stuff
Lesson 27: Defusing Tension
Lesson 28: Engage the Enemy
Lesson 29: Managing Crises
Lesson 30: Avoiding the Cross-Purposes Trap
Lesson 31: Delivering Bad News
Lesson 32: Persuading the Unpersuaded
Lesson 33: Handling Defeat
Lesson 34: Perseverance: Keep Pounding the Rock
Lesson 35: Resilience: Get up and Do It Again
Lesson 36: Adaptability: Everything Changes, Even Leaders
Lesson 37: Forgive (Not Forget)
Lesson 38: Avoid the Blame Game
Lesson 39: Negotiate Position, Not Values
Lesson 40: Being Tough
Lesson 41: Letting off Steam
Part IV: Put the Team First
Lesson 42: Developing Team Confidence
Lesson 43: Managing Dissent
Lesson 44: Recruiting Good People
Lesson 45: All You Need Is Love
Lesson 46: Get off the Pedestal
Lesson 47: Grace: Make It Look Effortless
Lesson 48: Humility: Get out of the Limelight
Lesson 49: Remembering the Past
Lesson 50: Humor: Lighten Up, It's Only Work
Epilogue

Find Items On Similar Subjects

Great Communication Secrets of Great Leaders