The Art of War
Sun Tzu
Translated by James Clavell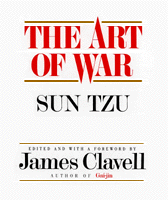 Format:
Hardcover, 83pp.
ISBN:
9780385292160
Publisher:
Delacorte
Pub. Date:
March 1989
The Art of War - Paperback
Average Customer Review:

For Bulk Orders Call: 626-441-2024

Description and Reviews
From
The Publisher:
If you know the enemy and know yourself, you need not fear the result of a hundred battles. If you know yourself but not the enemy, for every victory gained you will also suffer a defeat. If you know neither the enemy nor yourself, you will succumb in every battle....
These are the words of ancient Chinese philosopher Sun Tzu, whose now-classic treatise,
The Art of War
, was written more than 2,500 years ago. Originally a text for victory on the battlefield, the book has vastly transcended its original purpose.
Here is a seminal work on the philosophy of successful leadership that is as applicable to contemporary business as it is to war. Today many leading American business schools use the text as required reading for aspiring managers, and even Oliver Stone's award-winning film Wall Street cites
The Art of War
as a guide to those who strive for success.
Now acclaimed novelist James Clavell, for whom Sun Tzu's writing has been an inspiration, gives us a newly edited
Art of War
. Author of the best-selling Asian saga consisting of
Shogun, Tai-Pan, Gai-jin, King Rat, Noble House
, and
Whirlwind
, Clavell first heard about Sun Tzu in Hong Kong in 1977, and since then
The Art Of War
has been his constant companion--he refers to it frequently in Noble House. He has taken a 1910 translation of the book and clarified it for the contemporary reader. This new edition of
The Art Of War
is an extraordinary book made even more relevant by an extraordinary editor.

About the Author
Sun Tzu
is credited with the sophisticated treatise on philosophy, logistics, espionage, and strategy and tactics known as
The Art of War
. It includes many commentaries by later Chinese philosophers. The core text was probably written by one person during a time of expanding feudal conflicts, but the exact century is uncertain. Most authorities now support a date early in the Warring States period (c.453–221 B.C.). Sun Tzu became a general for the king of Wu in 512 BC. For almost two decades the armies of Wu were victorious over their hereditary enemies. After his death the armies of Wu were defeated and the kingdom made extinct. In 1782 the Art of War was translated into French by a Jesuit, Father Amiot. Legend says this book was the key to Napoleon's success.

Table of Contents
| | | |
| --- | --- | --- |
| | Foreword | 1 |
| I | Laying Plans | 9 |
| II | On Waging War | 12 |
| III | The Sheathed Sword | 15 |
| IV | Tactics | 19 |
| V | Energy | 21 |
| VI | Weak Points & Strong | 25 |
| VII | Maneuvering | 30 |
| VIII | Variation of Tactics | 37 |
| IX | The Army On the March | 41 |
| X | Terrain | 50 |
| XI | The Nine Situtions | 56 |
| XII | Attack By Fire | 73 |
| XIII | The Use of Spies | 77 |

Find Items On Similar Subjects

Sun Tzu's The Art of War Plus The Original Chinese Revealed


Sun Tzu's The Art of War Plus The Art of Management

On War

The Art of War
Paperback

Sun Tzu: The Art of War for Managers - 50 Strategic Rules


A Book of Five Rings

The Prince

Clausewitz on Strategy
: Inspiration and Insight from a Master Strategist