Sun Tzu: The Art of War for Managers
- 50 Strategic Rules Updated for Today's Business
Gerald A. Michaelson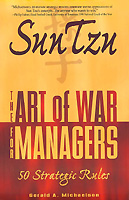 Format:
Paperback, 224pp.
ISBN:
9781605500300
Publisher:
Adams Media Corporation
Pub. Date:
May 18, 2010
Average Customer Review:

For Bulk Orders Call: 626-441-2024

Description and Reviews
From
The Publisher:
Organized around 50 rules for strategic thinking,
The Art of War for Managers
translates the strategic wisdom of Sun Tzu into powerful 10-minute lessons to enhance your business and personal success. The book focuses on how to apply Sun Tzu's wisdom to business and personal success. The content has three unique features. 1. A new translation of "The Art of War." 2. Excerpts from other translations clarify meanings. 3. Text is simplified into 50 rules for strategic thinking enhanced by useful examples.
The 50 rules for strategic thinking will assist in your search for useful applications of Sun Tzu's wisdom. Each rule is supported by examples showing how this rule has been, and can be, applied. In a new section in this edition, contemporary managers discuss their personal experiences in applying these rules.

Reviews
"Michaelson is Sun Tzu's foremost student and interpreter. He brings home the business relevance of this ancient military strategist in down-to-earth language."
—Al Vogl, editor of The Conference Board Magazine
"Brilliant work! The useful commentary in The Art of War for Managers brings Sun Tzu's timeless wisdom to a new level."
—Gen. Bill Creech, Author, The Five Pillars of TQM

About the Author
Gerald A. Michaelson
has a long and distinguisher career in business. A former vice president of Magnavox and a recognized authority on "The Art of War," he has addressed audiences on five continents on the wisdom of Sun Tzu. His articles on the application of military strategy to business regularly appear in business publications. His companions books include Winning the Marketing War and 50 Ways to Close a Sale (and Keep the Customer for Life). "Winning the Marketing War compares the best of Eastern strategy and Western strategy.

Table of Contents
| | | |
| --- | --- | --- |
| | Introduction | |
| Ch. 1 | Laying Plans | |
| Ch. 2 | Waging War | |
| Ch. 3 | Attack by Stratagem | |
| Ch. 4 | Disposition of Military Strength | |
| Ch. 5 | Use of Energy | |
| Ch. 6 | Weakness and Strength | |
| Ch. 7 | Maneuvering | |
| Ch. 8 | Variation of Tactics | |
| Ch. 9 | On the March | |
| Ch. 10 | Terrain | |
| Ch. 11 | The Nine Varieties of Ground | |
| Ch. 12 | Attack by Fire | |
| Ch. 13 | Employment of Secret Agents | |
| | Appendix | |
| | End Notes | |
| | Bibliography | |
| | Index | |

Find Items On Similar Subjects

The Art of War
Paperback

The Art of War
Hardcover

A Book of Five Rings

The Prince