The Prince
Niccolo Machiavelli Introduction by Daniel Donno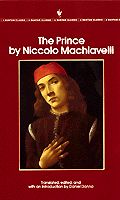 Format:
Paperback, 147pp.
ISBN:
9780553212785
Publisher:
Bantam Classics
Pub. Date:
September 1984
Average Customer Review:

For Bulk Orders Call: 626-441-2024

Description and Reviews
From
The Publisher:
The most famous book on politics ever written, The Prince remains as lively and shocking today as when it was written almost five hundred years ago. Initially denounced as a collection of sinister maxims and a recommendation of tyranny, it has more recently been defended and indeed applauded as the first scientific treatment of politics as it is practiced rather than as it ought to be practiced. A masterpiece of effective prose, The Prince is at once comic and formidable, imaginative and calculating, fascinating and chilling. Its influence in modern history has been profound, and—often considered to be the first modern book—it was surely a primary text for the modern philosophers who challenged the traditions of ancient and medieval thought and morality.
The book has been variously described as the first to analyze the role of the political elite; as the one that established the independence of politics from theology; as an early formulation of the political 'myth' required to galvanize apolitical masses into revolutionary action; as a practical rule-book containing timeless precepts for the diplomat; and, most frequently, as the handbook of evil. Based upon Machiavelli's firsthand experience as an emissary of the Florentine Republic to the courts of Europe, The Prince analyzes the often-violent means by which political power is seized and retained, and the circumstances in which it is lost. Above all, it provides a remarkably uncompromising picture of the true nature of power, no matter in what era or by whom it is exercised.

About the Author
The father of modern political theory,
Niccolo di Bernardo dei Machiavelli
was born on May 3, 1469 in Florence, Italy. Machiavelli was a political philosopher and diplomat during the Renaissance, and is most famous for his political treatise, The Prince (1513), that has become a cornerstone of modern political philosophy.
The Prince
was published after his death in 1532. He died of ill health on June 22, 1527.

Table of Contents
| | | |
| --- | --- | --- |
| | Foreword | |
| | Chronology | |
| | Map | |
| | Introduction | |
| | Translator's Note | |
| | Selected Books | |
| | Machiavelli's Principal Works | |
| | Letter to the Magnificent Lorenzo de Medici | 1 |
| I | How many kinds of principality there are and the ways in which they are acquired | 5 |
| II | Hereditary principalities | 5 |
| III | Composite principalities | 6 |
| IV | Why the kingdom of Darius conquered by Alexander did not rebel against his successors after his death | 13 |
| V | How cities or principalities which lived under their own laws should be administered after being conquered | 16 |
| VI | New principalities acquired by one's own arms and prowess | 17 |
| VII | New principalities acquired with the help of fortune and foreign arms | 20 |
| VIII | Those who come to power by crime | 27 |
| IX | The constitutional principality | 31 |
| X | How the strength of every principality should be measured | 34 |
| XI | Ecclesiastical principalities | 36 |
| XII | Military organization and mercenary troops | 39 |
| XIII | Auxiliary, composite, and native troops | 43 |
| XIV | How a prince should organize his militia | 47 |
| XV | The things for which men, and especially princes, are praised or blamed | 49 |
| XVI | Generosity and parsimony | 51 |
| XVII | Cruelty and compassion; and whether it is better to be loved than feared, or the reverse | 53 |
| XVIII | How princes should honour their word | 56 |
| XIX | The need to avoid contempt and hatred | 58 |
| XX | Whether fortresses and many of the other present-day expedients to which princes have recourse are useful or not | 67 |
| XXI | How a prince must act to win honour | 71 |
| XXII | A prince's personal staff | 75 |
| XXIII | How flatterers must be shunned | 76 |
| XXIV | Why the Italian princes have lost their states | 78 |
| XXV | How far human affairs are governed by fortune, and how fortune can be opposed | 79 |
| XXVI | Exhortation to liberate Italy from the barbarians | 82 |
| | Glossary of Proper Names | 86 |
| | Notes | 99 |

Find Items On Similar Subjects

The Modern Prince
: What Leaders Need to Know Now

On War

The Art of War
Paperback

The Art of War
Hardcover

A Book of Five Rings

Clausewitz on Strategy
: Inspiration and Insight from a Master Strategist