A Book of Five Rings
: The Classic Guide to Strategy
Miyamoto Musashi Translated by Victor Harris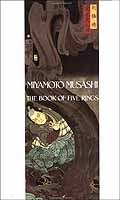 Format:
Paperback, 160pp.
ISBN:
9780553351705
Publisher:
Bantam
Pub. Date:
Reissue edition March 1992
Average Customer Review:

For Bulk Orders Call: 626-441-2024

Description and Reviews
From
The Publisher:
Since the publication of its first English translation in 1974, The Book of Five Rings has become an underground classic in the American business community, where it is studied as a text on Japanese management techniques. Here are timeless principles of craft, skill, timing, and spirit from a great samurai warrior--plus background on Zen, Bushido, Heiho, and Musashi's life.
Few works of literature speak almost equally to the businessman, the philosopher, and the practitioner of the martial arts. Musashi's great classic, until now unknown in the West except by reputation, is one which speaks to all three. Famous for over 300 years, A Book of Five Rings is likely the most perceptive guide to strategy ever written.

Reviews
Written by legendary Japanese swordsman Musashi, this 17th-century exposition of sword-fighting strategy and Zen philosophy has been embraced by many contemporary readers, especially business school students, as a manual on how to succeed in life. There are many English translations, but every one, including this one, suffers from inadequate cultural, literary, and philosophical commentary. Musashi's work should be studied, not simply read, and Cleary's translation lacks commentary; it also makes the prose seems flat and the philosophy simplistic. Yet what makes this new translation worthwhile is the second text, buried deep in the back like an appendix: Yagyu Munenori's The Book of Family Traditions on the Art of War . This text, also an exposition on sword fighting and Zen philosophy, is difficult to find in an English translation, and its availability is welcome. Recommended for academic libraries generally.-- Glenn Masuchika, Chaminade Univ. Lib., Honolulu
—Library Journal

About the Author
Miyamoto Musashi
was born in the Mimasaka province of Japan in 1584. His father was a Samurai, so not surprisingly Musashi had great interest in swordsmanship, and he studied all he could. In 1640 Musashi accepted service with the Hosokawa clan, and three years later, in Higo Province, began work on his great book,
Gorin no shô
(
The Book of Five Rings
). He finished this influential work on swordsmanship in May 1645 - the same year he died.

Table of Contents
| | | |
| --- | --- | --- |
| | Translator's Introduction | 1 |
| | Introduction | 34 |
| | The Ground Book | 37 |
| | The Water Book | 53 |
| | The Fire Book | 69 |
| | The Wind Book | 85 |
| | The Book of the Void | 95 |

Find Items On Similar Subjects

The Book of Five Rings
• Hardcover of this edition

The Book of Five Rings

On War

The Art of War
Paperback

The Art of War
Hardcover

The Prince

Clausewitz on Strategy
: Inspiration and Insight from a Master Strategist