The Art of War
Sun Tzu Introduction by Samuel B. Griffith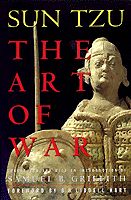 Format:
Paperback, 197pp.
ISBN:
9780195014761
Publisher:
Oxford University Press
Pub. Date:
October 1984
The Art of War - Hardcover
Average Customer Review:

For Bulk Orders Call: 626-441-2024

Description and Reviews
From
The Publisher:
Written approximately twenty-five hundred years ago, in a time of political turbulence and great military activity, Sun Tzu's
The Art of War
has exerted an extraordinary influence on the modern world. People of all persuasions have found inspiration and sound, practical guidance here for any number of activities that require strategy, from sports and normal business affairs to affairs of the heart. They have found the courage to view the world in which they live and work as a network of actual and potential combat zones, where the stakes are high and struggle is the primary mode of being; where no one is to be trusted and survival depends on unconditional victory. This edition, augmented by commentaries and anecdotal material, renders the classic text accessible to the contemporary reader, while maintaining the spare, near-poetic tone of the original.

>
Reviews
Shows managers how to be fearless in resolving conflicts.
—Boardroom Reports
The Art of War
is among the greatest classics of military literature ever written. Sun Tzu's warfare is as applicable today as when the book was written some 2,500 years ago .... Pick up
The Art of War
and read it.
—General A.M. Gray, Marine Corps Gazette

About the Author
Sun Tzu
is credited with the sophisticated treatise on philosophy, logistics, espionage, and strategy and tactics known as
The Art of War
. It includes many commentaries by later Chinese philosophers. The core text was probably written by one person during a time of expanding feudal conflicts, but the exact century is uncertain. Most authorities now support a date early in the Warring States period (c.453–221 B.C.). Sun Tzu became a general for the king of Wu in 512 BC. For almost two decades the armies of Wu were victorious over their hereditary enemies. After his death the armies of Wu were defeated and the kingdom made extinct. In 1782 the Art of War was translated into French by a Jesuit, Father Amiot. Legend says this book was the key to Napoleon's success.

Table of Contents
| | | |
| --- | --- | --- |
| | Sun Tzu and the Concubines | Frontispiece |
| | List of Abbreviations | xvii |
| | INTRODUCTION | |
| I | The Author | 1 |
| II | The Text | 13 |
| III | The Warring States | 20 |
| IV | War in Sun Tzu's Age | 30 |
| V | Sun Tzu on War | 39 |
| VI | Sun Tzu and Mao Tse-tung | 45 |
| | TRANSLATION | |
| | Biography of Sun Tzu | 57 |
| I | Estimates | 63 |
| II | Waging War | 72 |
| III | Offensive Strategy | 77 |
| IV | Dispositions | 85 |
| V | Energy | 90 |
| VI | Weaknesses and Strengths | 96 |
| VII | Manœuvre | 102 |
| VIII | The Nine Variables | 111 |
| IX | Marches | 116 |
| X | Terrain | 124 |
| XI | The Nine Varieties of Ground | 130 |
| XII | Attack by Fire | 141 |
| XIII | Employment of Secret Agents | 144 |
| | APPENDIX | |
| I | A Note on Wu Ch'i | 150 |
| II | Sun Tzu's Influence on Japanese Military Thought | 169 |
| III | Sun Tzu in Western Languages | 179 |
| IV | Brief Biographies of the Commentators | 184 |
| | BIBLIOGRAPHY | 187 |
| | INDEX | 193 |
| | MAPS | |

Find Items On Similar Subjects

Sun Tzu's The Art of War Plus The Art of Management

On War

The Art of War
Hardcover

Sun Tzu: The Art of War for Managers - 50 Strategic Rules


A Book of Five Rings

The Prince

Clausewitz on Strategy
: Inspiration and Insight from a Master Strategist