The Leader on the Couch
: A Clinical Approach to Changing People & Organisations
Manfred Kets de Vries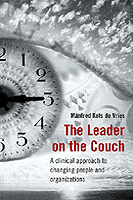 Format:
Hardcover, 436pp.
ISBN:
9780470030790
Publisher:
John Wiley & Sons
Pub. Date:
September 25, 2006
Average Customer Review:

For Bulk Orders Call: 626-441-2024

Description and Reviews
From
The Publisher:
Despite the proven benefits of emotional intelligence, organizational life has typically been hostile to the inner world of feeling. Rationality is deemed superior to feeling, which can contaminate judgment. But without feeling there is no passion, and no action. This book sets out to change people and organizations for the better, by revealing the 'dark side' of leadership behaviour and its impact on performance. Tapping into the startling parallels between the journey to emotional intelligence, the process of psychoanalysis, the practice of leadership coaching and the Zen journey to enlightenment, renowned thinker Manfred Kets de Vries helps executives, consultants, and coaches to peel back the layers of self-deception and reveal how inner personality – largely hard-wired since early childhood – affects the way they lead and manage others.
Why is it worth your time to read this book? Because people worldwide complain that there's a discrepancy between what leaders say and what they do, and it's rooted in the leaders' own lack of awareness of their psychological drivers and mood states. The Leader on the Couch will help you beat self-deception and reveal how inner personality – largely hard-wired since childhood – affects the way you lead and manage others.
Part One describes personality prototypes found in the workplace, and explores their impact in organizational life. Part Two looks at the educational 'technology' needed to change executive mindsets, and discusses intervention methods that can lead to change. Finally, Part Three deals with system-wide interventions, including ways of doing a leadership audit. The book closes with a call for 'authentizotic' organizations – where leaders 'walk the talk', people feel alive and all are called to give their very best.

About the Author
Recently awarded the Leadership Scholar of the Year prize by the International Leadership Association,
Manfred Kets de Vries
brings a different view to the much-studied subjects of leadership and the dynamics of individual and organizational change. The Financial Times, Le Capital, Wirtschaftswoche and The Economist have judged Manfred one of the world's leading thinkers on leadership. A clinical professor of leadership, he is Chair of Leadership Development and director of INSEAD' s Global Leadership Center. He is responsible for the top management seminar, The Challenge of Leadership: Creating Reflective Leaders and the program Consulting andCoaching for Change. Manfred has received INSEAD's distinguished teacher award 5 times and has also held professorships at McGill University, Montreal, Harvard Business School and Ecole des Hautes Etudes Commerciales. Author, co-author or editor of over 22 books and over 200 articles, his work has featured regularly in The New York Times, The Financial Times, The Wall Street Journal, Business Week, Fortune and many other professional press publications.

Table of Contents
| | | |
| --- | --- | --- |
| | Preface | |
| | Acknowledgments | |
| | About the Author | |
| | | |
| 1 | Introduction: The Clinical Paradigm | |
| | | |
| | PART ONE. ENTERING THE INNER THEATER OF LEADERS. | |
| 2 | The Narcissistic Leader: Myth and Reality | |
| 3 | A Parade of Personalities | |
| 4 | Leaders and Followers: Moving Away from People | |
| 5 | Leaders and Followers: Moving Against People | |
| 6 | Elation and Its Vicissitudes | |
| 7 | The Impostor Syndrome: The Shadow Side of Success | |
| | | |
| | PART TWO. CHANGING MINDSETS. | |
| 8 | Can Leaders Change? Yes, But Only If They Want To | |
| 9 | Taking the Road Less Traveled | |
| 10 | Coach or Couch, Anybody? | |
| 11 | Group Leadership Coaching | |
| | | |
| | PART THREE. UNDERSTANDING THE PSYCHODYNAMICS OF GROUPS AND ORGANIZATIONS. | |
| 12 | The Unconscious Life of Groups and Organizations | |
| 13 | Unraveling the Mystery of Organizations | |
| 14 | Conclusion: Creating "Authentizotic" Organizations | |
| | | |
| | Index | |

Find Items On Similar Subjects

Reflections on Groups and Organizations
: On the Couch With Manfred Kets de Vries

Reflections on Leadership and Career Development
: On the Couch with Manfred Kets de Vries

Reflections on Character and Leadership
: On the Couch with Manfred Kets de Vries

The Leadership Mystique
: A User's Manual for the Human Enterprise

The Leader on the Couch
: A Clinical Approach to Changing People & Organisations