The Leadership Mystique
: A User's Manual for the Human Enterprise
Manfred Kets de Vries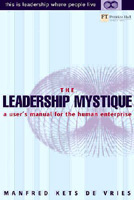 Format:
Paperback, 256pp.
ISBN:
9780273656203
Publisher:
Financial Times Prentice Hall
Pub. Date:
August 29, 2001
Average Customer Review:

For Bulk Orders Call: 626-441-2024

Description and Reviews
From
The Publisher:
Organizations are like automobiles. They don't run themselves, except downhill.
Leadership now requires very different behavior from the leadership tradition we are used to. It requires leaders who speak to the collective imagination of their people, co-opting them to join in the business journey; leaders who are able to motivate people to full commitment and have them make that extra effort. It's all about human behavior. It's about understanding the way people and organizations behave, about creating relationships, about building commitment, and about adapting your behavior to lead in a creative and motivating way.
So, ask yourself what you're doing about the leadership factor. How do you execute your own leadership style? Whether you work on the shop floor or have a corner office on the top floor of a shimmering skyscraper, what have you done today to be more effective as a leader?
There are no quick answers to leadership questions, and there are no easy solutions. In fact, the more we learn the more it seems there is to learn. In The Leadership Mystique, management and psychology guru Manfred Kets de Vries unpicks the many layers of complexity that underlie effective leadership, and gets to the heart of the day-to-day behavior of leading people in the human enterprise.
"Your business can have all the advantages in the world; strong finiancial resources, enviable market position, and state-of-the-art technology, but if leadership fails, all of these advantages melt away."


—Manfred Kets de Vries, author

About the Author
Manfred Kets de Vries
is one of Europe's leading management thinkers and an experienced author, co-author, or editor of 17 books. He holds chair and Directorship positions at INSEAD. He also holds professorships at McGill University, the École des Hautes Etudes Commerciales, Montreal, and the Harvard Business School and has lectured at management institutions around the world.

Table of Contents
| | |
| --- | --- |
| | |
| | Preface |
| | |
| Chapter 1 | "Leadership in a dissonant voice," first looks at what leadership is and does and then introduces the clinical paradigm (which, as I noted earlier, governs my approach to organizational theory and action). |
| Chapter 2 | "Emotional intelligence in the world of work," focuses on emotional intelligence, identifying ways that it can enrich both a leader's self-understanding and his or her ability to understand, motivate, and support followers. |
| Chapter 3 | "The mussel syndrome," looks at the natural human tendency to resist change - a tendency that can bring down leaders and organizations alike. It also takes stock of the changes occurring in the world of organizations. |
| Chapter 4 | "The failure factor in leadership," dissects the interplay of rational and irrational forces behind executive behaviour, examining how such issues as transference and narcissism affect leadership and offering ways to offset their power. |
| Chapter 5 | "The dynamics of succession," presents the life-cycle of the CEO and reviews some of the dilemmas that make planning for leadership succession so difficult. |
| Chapter 6 | "The Dilbert phenomenon," looks at how organizations suck the life out of their people and offers ways to resuscitate lifeless employees. |
| Chapter 7 | "The rot at the top," introduces specific "neurotic" leadership styles - styles that originate with the leader but eventually have a "toxic" effect on the entire organization - and then offers suggestions for rebalancing these neurotic styles. |
| Chapter 8 | "Achieving personal and organizational change," probes the dynamics of the change process as it applies to individuals and the organizations they inhabit. |
| Chapter 9 | "Characteristics of effective leadership," looks at what leadership demands and outlines some of the competencies that distinguish effective leaders from those who are ineffective. |
| Chapter 10 | "Leadership in a global context," looks at cultural differences and their impact on business, reviews the special demands of global leadership, and highlights ways that organizations can select and develop leaders who work well in the global context. |
| Chapter 11 | "Roles leaders play," focuses on two dichotomies - leadership versus management and charismatic leadership versus architectural leadership - and suggests how leaders can balance these contrasting but necessary strengths. |
| Chapter 12 | "Leadership development," deals with how organizations can assess leadership ability in potential candidates and develop leadership skills in those already within the fold. |
| Chapter 13 | "Authentizotic organizations," defines a new sort of workplace and challenges organizations to adopt that new model. |
| Chapter 14 | "Concluding comments," makes a case for the "fool" in organizations and presents some final thoughts on the subject of leadership. |

Customer Reviews
Write your own online review
.

Leadership's Anatomy
December 25, 2006
Reviewer: Rami Rajab from Dubai, United Arab Emirates
Manfred Kets de Vries goes all the way into an anatomical course on major diseases affecting Corporate Machines. His metriculous and to the point exposure of the various symptoms hitting/affecting modern corporations and the various diagnosis tools attached make this book a must read at all Corporate levels. The study and exposure of the emotional and behavioural factors influencing Leadership. Talent and Leadership development is a Major Goal at Sorin Group and we are always seeking excellence through following the best in class standards in mamnagement, and this book is a good guideline to benefit from.

Find Items On Similar Subjects

Reflections on Groups and Organizations
: On the Couch With Manfred Kets de Vries

Reflections on Leadership and Career Development
: On the Couch with Manfred Kets de Vries

Reflections on Character and Leadership
: On the Couch with Manfred Kets de Vries

The Leader on the Couch
: A Clinical Approach to Changing People & Organisations