MOXIE
: The Secret to Bold and Gutsy Leadership
John Baldoni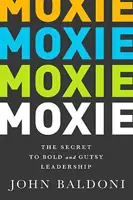 Format:
Hardcover, 192pp.
ISBN:
9781629560212
Publisher:
Routledge
Pub. Date:
October 30, 2014
Average Customer Review:


For Bulk Orders Call: 626-441-2024

Description and Reviews
From
The Publisher:
Leaders today need to be mindful of their circumstances as well as mindful of their own strengths and shortcomings. They need to have the disposition to succeed as well as the inner resourcefulness to persevere. Leaders must be willing to do things differently but also draw on tried and true traits, such as courage and gumption.
Moxie is a concept that the modern leader is wise to adopt—one part courage, one part can-do spirit, and one part recognition. In
Moxie: The Secret to Bold and Gutsy Leadership
, author John Baldoni uses concrete, tried-and-true steps to bring out the inner leader in everyone. For management and employees alike, Moxie provides a roadmap to inspire innovation and effective leadership. Whether you're already at the helm of your organization or still looking for a way up the ladder, Moxie is the leadership tool you can't do without. Built on the MOXIE framework, leaders learn how Motivation, Opportunity, an "X" factor, Innovation, and Engagement work together for success.

Reviews
John Baldoni is a prolific thought leader. With Moxie, he helps leaders recognize the fire that drives them. Touching on leadership, innovation, and engagement, John brings to life the excitement that drives us all to strive for the pinnacle of success which is often quite elusive. Moxie is a must read for any C-level manager or executive who wants to bring the energy back to their life and their career.
—Marshall Goldsmith, Top 50 Thinker and best-selling author of What Got You Here Won't Get You There and MOJO
John Baldoni's newest offer Moxie is a valuable book for today's leaders. Drawing on examples from great trailblazers of the past, Baldoni shows how effective leaders work and behave with passion and purpose. Brilliantly integrating the traditional psychology of self-awareness with the critical need for people skills and resiliency, Moxie proves to be the whole package. Highly readable and inspiring!
—Stephen M. R. Covey, bestselling author of The Speed of Trust and coauthor of Smart Trust
Mindfulness, Opportunity, X Factor, Innovation, Engagement. MOXIE. Just what corporate America is missing today. John Baldoni is known for coaching high-level executives as well as for his columns and books. Whether starting out with an innovative idea that is attracting investors or well established and sitting in the corner office, John's new book should be on the must-read list for those striving for excellence and success.
—Mike Myatt, best-selling author of Hacking Leadership and Forbes leadership columnist
Finally, the definitive work on leadership! With laser-focus and global, historical perspective, John Baldoni has gifted us with the essence of real-life, authentic qualities that inspire teams, companies and nations to greatness.
—Denis Waitley, best-selling author of The Psychology of Winning
Don't let the title fool you! John's book is not about being a business tough-guy. It is about having the inner resolve to find your special place as a leader and use it to make an impact on others. Once you read the real-life examples of leaders we all admire, you'll narrow in on your own X-Factor. Go out and buy this book!
—Paul Spiegelman, former CEO of The Beryl Companies and the New York Times best-selling author of Patients Come Second
John Baldoni hits on the greatest challenge and opportunity facing today's leaders in his new book Moxie. Those in power who abuse their position lose the faith and trust of followers; those who work hard at their jobs and try to do the right thing gain influence. People want to follow them because they trust them.
—Barbara Kimmel, executive director, Trust Across America
Moxie! Every great leader has it. Every great leader looks for it in the people he or she leads. Look under the hood of the most exciting and successful companies of our time and you'll find Moxie. Study the people who have changed history. You'll find Moxie. Read this book and let John Baldoni masterfully unpack for you one of the most sought after character strengths in the world.
—Kevin Freiberg, coauthor of the international bestseller NUTS! Southwest Airlines' Crazy Recipe for Business and Personal Success and Do Something Now: Be the One Who Makes Something Happen
With Moxie, John Baldoni explores what it takes to lead from the inside out. By focusing on mindfulness, Baldoni demonstrates how leaders can use their inner resolve to paint a picture of the future and overcome obstacles in order to achieve success for the organization.
—Gary P. Von Kennel, retired global CEO of Rapp Worldwide and former CEO of Tracy Locke Advertising
Moxie is that rare leadership book that is both fresh and enduring and will make you think about how you lead. A coach at heart, John has written a must read for aspiring leaders as well as CEOs in a style that resembles a great conversation with a good friend. Bookstores are filled with leadership books that try to capture the next big leadership thing; in Moxie, John offers the big things that endure and help leaders succeed regardless of industry or environment. If you are a leader, this book will serve as a trusted resource for years to come.
—Brian Layer, CEO of N2growth and retired brigadier general in the US Army

About the Author
John Baldoni
is chair of the leadership development practice at N2growth, a global leadership consultancy specializing in executive search and organizational/leadership development. John is an internationally recognized leadership educator, executive coach and the author of 12 books, including "Lead with Purpose, Lead Your Boss," and "The Leader's Pocket Guide." John speaks throughout North America and Europe, and in 2013 Global Gurus ranked him No. 14 on its list of global leadership experts. John has authored more than 500 leadership columns for a variety of online publications including HBR.org, Forbes.com, CBS/MoneyWatch and The Washington Post. His leadership resource website is www.johnbaldoni.com.
Find Items On Similar Subjects

Lead By Example
: 50 Ways Great Leaders Inspire Results

Great Communication Secrets of Great Leaders