New Ideas from Dead CEOs
: Lasting Lessons from the Corner Office
Todd G. Buchholz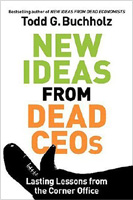 Format:
Hardcover, 320pp.
ISBN:
9780061197628
Publisher:
Collins
Pub. Date:
May 8, 2007
Average Customer Review:

For Bulk Orders Call: 626-441-2024

Description and Reviews
From
The Publisher:
New Ideas from Dead CEOs
uncovers the secrets of success of great CEOs by giving readers an intimate look at their professional and personal lives. Why did Ray Kroc's plan for McDonald's thrive when many burger joints failed? And how, decades later, did Krispy Kreme fail to heed Kroc's hard-won lessons? How did Walt Disney's most dismal day as a young cartoonist radically change his career? When Estée Lauder was a child in Queens, New York, the average American spent $8 a year on toiletries. Why did she spot an opportunity in selling high-priced cosmetics, and why did she pound on Saks's doors? How did Thomas Watson Jr. decide to roll the dice and put all of IBM's chips on computing, when his father thought it could be a losing idea? We learn about these CEOs' greatest challenges and failures, and how they successfully rode the waves of demographic and technological change.
New Ideas from Dead CEOs
not only gives us fascinating insights into these CEOs' lives, but also shows how we can apply their ideas to the present-day triumphs and struggles of Sony, Dell, Costco, Carnival Cruises, Time Warner, and numerous other companies trying to figure out how to stay on top or climb back up.
The featured CEOs in this book were not candidates for sainthood. Many of them knew "god" only as a prefix to "dammit." But they were devoted to their businesses, not just to their egos and their personal bank accounts and yachts. Extraordinarily fresh and deeply thoughtful, Todd G. Buchholz's
New Ideas from Dead CEOs
is a truly enjoyable and fun—yet serious and realistic—look at what we still have to learn and absorb from these decomposing CEOs.


Reader's Index
Send us your favorite quotes or passages from this book
.
• "Each of these CEOs failed at some point. Faced with bankruptcy and defections, they could have succumb to psychological depression or the siren call of politicians offering class warfare. He each heard nos, the tsk-tsks of friends, and a schadenfreude chorus scoffing at their failure. But they pushed on, energized by passion, ego, money, and the promise of glory. You cannot build a successful business or economy on the kindness of strangers. These CEOs relied on more dependable, more human drives. Drives that took them on fascinating rides." Pg. xiv

About the Author
Todd G. Buchholz
is a former White House director of economic policy, award-winning teacher at Harvard, and managing director of the Tiger hedge fund. One of the founders and managing director of the Two Oceans Fund, he is coproducer of the Tony Award-winning Jersey Boys and has written for the New York Times, the Wall Street Journal, Forbes, and Reader's Digest. He is the author of
New Ideas from Dead Economists, From Here to Economy, Market Shock, Bringing the Jobs Home
, and the novel
The Castro Gene
, and he is frequently invited to speak and guest host television programs. He lives with his wife and daughters in Solana Beach, California.

Find Items On Similar Subjects

The Dip
: A Little Book That Teaches You When to Quit (and When to Stick)