The Leader's Pocket Guide
: 101 Indispensable Tools, Tips, and Techniques for Any Situation
John Baldoni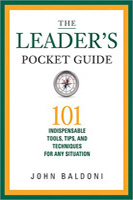 Format:
Hardcover, 224pp.
ISBN:
9780814432310
Publisher:
AMACOM
Pub. Date:
November 7, 2012
Average Customer Review:

For Bulk Orders Call: 626-441-2024

Description and Reviews
From
The Publisher:
Leadership. It can only truly be learned on the job, in the midst of constant daily challenges requiring you to think fast, use your intuition, and hope that all the guidance you've received in the past will bubble up in your brain at precisely the right moment. Wouldn't it be nice if you had constant access to your own personal leadership coach?
Packed with concise, on-the-job expertise to inspire and direct you on your professional journey, The Leader's Pocket Guide is a pithy, portable guide containing easily accessible, tactical tips you can reference on the go.
• Think more critically
• Develop the confidence to lead
• Get people to believe in themselves
• Lead with presence
• Regenerate hope
• Use a checklist to lead, and a task list to manage
• Act with the big picture in mind
• Influence your colleagues
• Improve team performance
• Take charge of change
• Instill purpose in your people
• Connect authentically
• Wield power gracefully when making decisions
• Hire for character and integrity
• Know the right questions to ask about your organization
• Manage when you cannot disclose information
• Handle a crisis
• Make your leadership relevant
Before you can lead others, you must learn to lead yourself. Augmented by up-to-date research on the role of leaders and the expectations followers have for them, this eminently practical guide shows you how to add more value to your organization . . . and be the greatest leader you can be.

Reviews
A sumptuous feast served up for experienced and aspiring leaders in bite-sized portions. A thoughtful and practical guide for lifting one's leadership profile in the here and now.
—Douglas R. Conant, retired CEO of Campbell Soup and co-author of the bestselling TouchPoint

About the Author
John Baldoni
is the president of Baldoni Consulting LLC, a full-service executive coaching and leadership development firm. He is an internationally recognized leadership educator and executive coach and the author of many books, including Lead with Purpose, Lead Your Boss, and Great Motivation Secrets of Great Leaders. John speaks throughout North America and Europe, and in 2012 Leadership Gurus International ranked him No. 10 on its list of global leadership experts. John has authored more than 400 leadership columns for a variety of online publications including CBS MoneyWatch, Harvard Business Review, Forbes, and the Washington Post.

Find Items On Similar Subjects

Lead with Purpose
: Giving Your Organization a Reason to Believe in Itself

Lead By Example
: 50 Ways Great Leaders Inspire Results