Power
: Why Some People Have It—and Others Don't
Jeffrey Pfeffer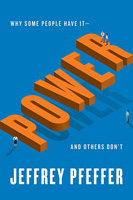 Format:
Hardcover, 288pp.
ISBN:
9780061789083
Publisher:
HarperBusiness
Pub. Date:
September 14, 2010
Average Customer Review:

For Bulk Orders Call: 626-441-2024

Description and Reviews
From
The Publisher:
In this crowning achievement, one of the greatest minds in management theory reveals how to succeed and wield power in the real world.
Over decades of consulting with corporations and teaching MBA students the nuances of organizational power, Jeffrey Pfeffer has watched numerous people suffer career reversals even as others prevail despite the odds.
Our most common mistake is not having a realistic understanding of what makes some people more successful than others. By believing that life is fair, we tend to subscribe to the "just-world phenomenon," which leaves us unprepared for the challenges and competition of the real world.
Now Pfeffer brings decades of his incredible insights to a wider audience. Brimming with counterintuitive advice, numerous examples from various countries, and surprising findings based on his research, this groundbreaking guide reveals the strategies and tactics that separate the winners from the losers. Power, he argues, is a force that can be used and harnessed not only for individual gain but also for the benefit of organizations and society. Power, however, is not something that can be learned from those in charge—their advice often puts a rosy spin on their ascent and focuses on what should have worked, rather than what actually did. Instead, Pfeffer reveals the true paths to power and career success. Iconoclastic and grounded in the realpolitik of human interaction, Power is an essential organizational survival manual and a new standard in the field of leadership and management.

Reviews
"Jeff Pfeffer is of immense service to the world with his work, blending academic rigor and practical genius into wonderfully readable text. The leading thinker on the topic of power, Pfeffer here distills his wisdom into an indispensible guide."
—Jim Collins, author of Good to Great and How the Mighty Fall
"Talk about speaking truth to power! In refreshingly candid prose, Jeff Pfeffer offers brilliant insights into how power is successfully built, maintained, and employed in organizations. It's well known that when Pfeffer speaks about power, smart people listen. This book shows why."
—Robert Cialdini, author of Influence
"Jeff Pfeffer nails it! Political skill, not just talent, is central to success in every field. In
Power
, this leading scholar comes down to earth with practical, even contrarian, tactics for mastering the power game."
—Rosabeth Moss Kanter, Chaired Professor, Harvard Business School, and bestselling author of Confidence: How Winning Streaks and Losing Streaks Begin

About the Author
Jeffrey Pfeffer
is the Thomas D. Dee II Professor of Organizational Behavior at the Graduate School of Business, Stanford University where he has taught since 1979. He is the author or co-author of thirteen books including
The Knowing-Doing Gap: How Smart Companies Turn Knowledge Into Action
,
Hard Facts, Dangerous Half-Truths, and Total Nonsense: Profiting from Evidence-Based Management
, and
What Were They Thinking? Unconventional Wisdom About Management
. He has has won the Richard I. Irwin Award presented by the Academy of Management for scholarly contributions to management and numerous awards for articles and books.

Find Items On Similar Subjects

Hard Facts, Dangerous Half-Truths And Total Nonsense
: Profiting From Evidence-Based Management

The Knowing-Doing Gap
: How Smart Companies Turn Knowledge into Action

What Were They Thinking?
Unconventional Wisdom about Management