Hard Facts, Dangerous Half-Truths And Total Nonsense
: Profiting From Evidence-Based Management
Jeffrey Pfeffer and Robert I. Sutton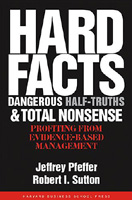 Format:
Hardcover, 256pp.
ISBN:
9781591398622
Publisher:
Harvard Business School Press
Pub. Date:
March 21, 2006
Average Customer Review:


For Bulk Orders Call: 626-441-2024

Description and Reviews
From
The Publisher:
A Better Way to Separate Sound Management Ideas from Seductive Hype
The best organizations have the best talent. . . Financial incentives drive company performance. . . Firms must change or die. Popular axioms like these drive business decisions every day. Yet too much common management "wisdom" isn't wise at all—but, instead, flawed knowledge based on "best practices" that are actually poor, incomplete, or outright obsolete. Worse, legions of managers use this dubious knowledge to make decisions that are hazardous to organizational health.
Jeffrey Pfeffer and Robert I. Sutton show how companies can bolster performance and trump the competition through evidence-based management, an approach to decision-making and action that is driven by hard facts rather than half-truths or hype. This book guides managers in using this approach to dismantle six widely held—but ultimately flawed—management beliefs in core areas including leadership, strategy, change, talent, financial incentives, and work-life balance. The authors show managers how to find and apply the best practices for their companies, rather than blindly copy what seems to have worked elsewhere.
This practical and candid book challenges leaders to commit to evidence-based management as a way of organizational life—and shows how to finally turn this common sense into common practice.

Reviews
"…a rarity on the crowded management shelf…a useful reminder that the gut is often trumped by the facts."
—Business Week


Reader's Index
Send us your favorite quotes or passages from this book
.
• "Building a culture of truth telling and acting on the hard facts requires an enormous amount of self-discipline in order to not only be willing to hear the truth, however unpleasant, but to actually encourage people to deliver bad news." Pg. 32
• "[I]f we want to learn despite our biases, we might look for
failures embedded in success stories
and
successes embedded in failure stories.
." Pg. 49

About the Authors
Jeffrey Pfeffer
is Professor of Organizational Behavior at Stanford's Graduate School of Business.
Robert I. Sutton
is Professor of Management Science and Engineering at Stanford. They coauthored
The Knowing-Doing Gap
(HBS Press, 2000).

Table of Contents
Preface
ix
Part One: Setting the Stage
1
Why every company needs evidence-based management
3
2
How to practice evidence-based management
29
Part Two: Dangerous Half-truths About
Managing People and Organizations
3
Is work fundamentally different from the rest of life and should it be?
57
4
Do the best organizations have the best people?
85
5
Do financial incentives drive company performance?
109
6
Strategy is destiny?
135
7
Change or die?
159
8
Are great leaders in control of their companies?
187
Part Three: From Evidence to Action
9
Profiting from evidence-based management
217
Notes
239
Acknowledgements
261
Index
265
About the Authors
277

Find Items On Similar Subjects

The Knowing-Doing Gap
: How Smart Companies Turn Knowledge into Action

What Were They Thinking?
Unconventional Wisdom about Management