What Were They Thinking?
Unconventional Wisdom about Management
Jeffrey Pfeffer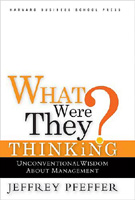 Format:
Hardcover, 204pp.
ISBN:
9781422103128
Publisher:
Harvard Business School Press
Pub. Date:
July 10, 2007
Average Customer Review:

For Bulk Orders Call: 626-441-2024

Description and Reviews
From
The Publisher:
Every day companies and their leaders fail to capitalize on opportunities because they misunderstand the real sources of business success.
Based on his popular column in
Business 2.0
, Jeffrey Pfeffer delivers wise and timely business commentary that challenges conventional wisdom while providing data and insights to help companies make smarter decisions. The book contains a series of short chapters filled with examples, data, and insights that challenge questionable assumptions and much conventional management wisdom. Each chapter also provides guidelines about how to think more deeply and intelligently about critical management issues. Covering topics ranging from managing people to leadership to measurement and strategy, it's good organizational advice, delivered by Dr. Pfeffer himself.

Reviews
"Jeffrey Pfeffer has a rare combination of academic rigor and practical genius. Grounded in research, a revered pioneer in his field – yet dedicated to helping leaders lead – he stands as one of the sparkling gems in the field of management."
—Jim Collins, author, Good to Great, and co-author, Built to Last
"I work with real executives every day. An executive is seldom a God, Devil, Genius or Idiot; an executive, like the rest of us, is a human being. What Were They Thinking? clearly explains why executives make human mistakes and how these common mistakes can be avoided. You may well think of your own mistakes and answer the question, 'What was I thinking?'"
—Marshall Goldsmith, executive coach and author, What Got You Here Won't Get You There
"A wise book of penetrating intellect wrapped in readable prose that every student, practitioner, and even expert in business must read. If they don't, it is their grand omission."
—Jack Valenti, former president, Motion Picture Association of America
"Jeffrey Pfeffer is one of the leading organizational behavior scholars of our time. What Were They Thinking? provides an accessible and insightful integration of theory and pragmatism developed through the thoughtful lens that only Jeff could provide. You will consume this book like a good Chinese dinner—pick what you want to eat from a rich menu, and expect to be hungry for more in a few hours."
—Gary Loveman, chairman, president and CEO, Harrah's Entertainment Inc.
"I can think of no scholar who has done more than Jeffrey Pfeffer to document how much a company's success depends on how well that company leverages the strength of its human resources. In What Were They Thinking?, Pfeffer provides numerous examples of the companies that get it wrong and the companies that get it right. The result is a theoretically-grounded, practical guide for managers on how they can get the most from their people."
—Joel M. Podolny, Dean and William S. Beinecke Professor of Management, Yale School of Management
"Beyond Managing with Power, beyond Hard Facts, this latest book from Jeffrey Pfeffer takes the principle of 'learning from the mistakes of others' and helps put it into applied practice for business leaders. Combining solid theory with plenty of practical examples, he relates cautionary tales of situations where short-sighted managers have accidentally wandered off the path to success. This helpful book taps into the voice of experience so that we don't have to learn all these lessons the hard way."
—David Kelley, co-founder and chairman, IDEO
"What Were They Thinking? is a collection of snippets, most of which are good common sense. Yet, given how uncommon good common sense can be in corporations, this anthology makes for a very useful reference volume."
—Shona L. Brown, senior vice president, business operations, Google, and co-author, Competing on the Edge

About the Author
Jeffrey Pfeffer
is Professor of Organizational Behavior at the Graduate School of Business, Stanford University. He is the author or co-author of 11 books, and a monthly column in
Business 2.0
.

Table of Contents
What Were They Thinking?: Avoiding Common Management Mistakes 1
People-Centered Strategies
The Face of Your Business: It's People, Not Software, That Build Customer Relationships 13
Making Companies More Like Communities 19
A Blueprint for Success: Spend More on Training 25
How Companies Get Smarter: Taking Chances and Making Mistakes 32
Why Employees Should Lead Themselves 39
Creating Effective Workplaces
Stop Picking Employees' Pockets: It Seldom Fixes Anything 49
Let Workers Work: The Downsides of Having People Manage Their Own Benefits 56
Why Spy on Your Employees?: Building Trust in the Workplace 62
All Work, No Play?: Maybe Long Hours Don't Pay 68
Sins of Commission: Be Careful What You Pay For, You May Get It 74
More Mr. Nice Guy: Why Cutting Benefits Is a Bad Idea 81
Resumes Don't Tell: Pick People for What They Can Do, Not What They May Have Done 87
Power Play: Rethinking Leadership and Influence
The Courage to Rise Above: Don't Be Afraid to Stand Out 95
Executive-in-Chief: The Importance of Framing and Repetition 102
How to Turn On the Charm: Building Influence Through Real Human Interaction for a Change 109
A Field Day for Executives: The Benefits of Knowing WhatYour Organization Actually Does 116
The Whole Truth, and Nothing But 122
Refuse to Lose: Persistence Pays 127
No More Excuses 133
Measures of Success: Rethinking Organizational Strategy
The Real Budget Crisis: Stop Rewarding Forecasting and Negotiating Instead of Real Performance 141
Shareholder Return Is the Wrong Measure of Performance 147
Dare to Be Different 154
Curbing the Urge to Merge 160
Don't Believe the Hype About Strategy 166
Facing the Nation: Organizations and Public Policy
In Praise of Organized Labor: What Unions Really Do 173
What to Do-and Not Do-About Executive Pay 181
Stopping Corporate Misdeeds: How We Teach the Wrong Lessons 188
Notes 195
Index 213
Acknowledgments 239
About the Author 243

Find Items On Similar Subjects

Hard Facts, Dangerous Half-Truths And Total Nonsense
: Profiting From Evidence-Based Management

The Knowing-Doing Gap
: How Smart Companies Turn Knowledge into Action