Leadership Secrets of Attila the Hun
Wess Roberts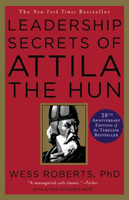 Format:
Paperback, 110pp.
ISBN:
9780446391061
Publisher:
Warner Books
Pub. Date:
May 1991
Average Customer Review:

For Bulk Orders Call: 626-441-2024

Description and Reviews
From
The Publisher:
Classic insight for modern times.
The world's foremost producer of personal development and motivational audio programs now offers a completely unique approach to learning leadership skills.
Most programs on leadership present the successes of contemporary men and women as role models for study. While valuable lessons can be learned from their examples, few models or success stories reveal the true essence of their leadership abilities or can anticipate the special circumstances, conditions, or situations that you deal with as a manager.
In the runaway bestseller
Leadership Secrets Of Attila The Hun,
author Wess Roberts draws from the imaginary thoughts of one of history's most effective and least beloved leaders, Attila the Hun, to discover leadership principles you can apply to your own situation. In a uniquely creative and entertaining approach to a most serious task, "Attila" reveals his principles for successful morale building, decision making, delegating and negotiating, and gives advice on overcoming setbacks and achieving goals.

About the Author
Wess Roberts, Ph.D.
is the international best-selling author of Leadership Secrets of Attila the Hun, Straight A's Never Made Anybody Rich, and Victory Secrets of Attila the Hun. His latest book is entitled, "Make it so!" Captain Picard's Lessons for a New Generation of Leaders. His works have been translated into twenty-two languages.
The recipient of the U.S. Department of the Treasury's Patriotic Service Award, he is the executive producer of six award-winning motivation and training films and has authored over forty-five professional papers on human behavior.
Dr. Roberts has held senior management positions at major insurance and financial service companies on the West Coast. He served to major in the U.S. Army where he was assigned for three years to the U.S. Army Combat Arms Training Board. As an adjunct professor at Southern Utah University, Utah State University, and Nova University, Dr. Roberts has taught undergraduate and graduate courses in business, education and psychology. He currently makes his home in Utah, where he writes and lectures on a variety of business and leadership topics.

Table of Contents
| | | |
| --- | --- | --- |
| | | ix |
| | Author's Note | ix |
| | Preface | xiii |
| | | ix |
| | Introduction: In Search of Attila | 1 |
| | | ix |
| 1 | In the Roman Court: "Leadership Qualities | 14 |
| 2 | The Lust for Leadership: "You've Got to Want to be in Charge" | 23 |
| 3 | Becoming a Hun: "Customs" | 29 |
| 4 | Peace in the Camp: "Morale and Discipline" | 34 |
| 5 | The Fury of Internal Battles: "Cunning in the Tribes" | 39 |
| 6 | The Tribute: "Paying and Receiving Deference" | 44 |
| 7 | Battle Dress and Armament: "Chieftains Are as They Appear to their Huns" | 50 |
| 8 | Aetius: "Picking Your Enemies Wisely" | 54 |
| 9 | Leading the Charge: "Responsibilities of a Chieftain" | 59 |
| 10 | The Queen of Aquileia: "The Essentials of Decisiveness" | 65 |
| 11 | Horse Holders: "The Art of Delegation" | 72 |
| 12 | Booty: "Rewarding Your Huns" | 76 |
| 13 | Attila and the Pope: "The Art of Negotiation" | 80 |
| 14 | Surviving Defeat: "There Is Another Day" | 86 |
| 15 | The Bones of Caravans Past: "Lessons Learned" | 91 |
| 16 | Ashes to Ashes: "Departing with Nobility" | 96 |
| | | ix |
| | Attilaisms: Selected Thoughts of Attila | 101 |

Find Items On Similar Subjects

The West Point Way of Leadership

Victory Secrets of Attila the Hun

Machiavelli on Modern Leadership
: Why Machiavelli's Iron Rules Are as Timely and Important Today as Five Centuries Ago

Corps Business
: The 30 Management Principles of the U. S. Marines