Machiavelli on Modern Leadership
: Why Machiavelli's Iron Rules Are as Timely and Important Today as Five Centuries Ago
Michael Arthur Ledeen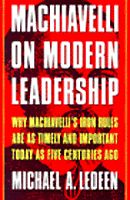 Format:
Paperback, 202pp.
ISBN:
9780312263560
Publisher:
St Martins Press
Pub. Date:
May 5, 2000
Average Customer Review:

For Bulk Orders Call: 626-441-2024

Description and Reviews
From
The Publisher:
Niccolo Machiavelli, one of the eminent minds of the Italian Renaissance, spent much of a long and active lifetime trying to determine and understand what exceptional qualities of human character—and what surrounding elements of fortune, luck, and timing—made great men great leaders successful in war and peace.
In perhaps the liveliest book on Machiavelli in years, Michael A. Ledeen measures contemporary movers and doers against the timeless standards established by the great Renaissance writer. Titans of statecraft (Margaret Thatcher, Franois Mitterrand, Pope John Paul II, Ronald Reagan, and Bill Clinton); business and finance (Bill Gates); Wall Street and investing (Warren Buffet); the military (Colin Powell), and sports (Michael Jordan) are judged by Machiavelli's precepts on leadership and the proper use of power. The result is a wide-ranging and scintillating study that illuminates the thoughts of the Renaissance master and the actions of today's truly towering figures as well as the character-challenged pretenders to greatness. Here is an exceptional book on Machiavelli and his ultra-realistic exploration of human nature—then and now.

Reviews
"Machiavelli on Modern Leadership slaps modern society across the face with ancient truths about human nature and power. Its honesty takes your breath away and its many stories ring true."
—Philip K. Howard, author of The Death of Common Sense
"To illustrate his ideas, Machiavelli made it a practice to give two examples, once ancient and one 'fresh.' With a firm grasp on American contemporary domestic and foreign policy, Michael Ledeen has provided what readers of Machiavelli need today—modern or 'fresh' examples. Machiavelli on Modern Leadership goes beyond the Medicis and the Borgias, reaching for intelligent and courageous examples in the corrupt worlds of modern government, business, the armed forces, and religion, to reveal that Machiavelli's warnings are hammering on the door of the twenty-first century."
—Sebastian de Grazia, Pulitzer Prize-winning author of Machiavelli in Hell

About the Author
Michael A. Ledeen
, a noted political analyst, is a resident scholar at the American Enterprise Institute. His books include
Grave New World
. A regular contributor to
The Wall Street Journal
, he lives and works in Washington, D.C.

Table of Contents
Introduction: Why World Leaders Need Machiavelli
The Course of Human Events
Luck
The War of Politics
Of Good and Evil
How to Rule
Freedom
Conclusion
Notes
Acknowledgments
Index

Find Items On Similar Subjects

Leadership Secrets of Attila the Hun