Corps Business
: The 30 Management Principles of the U.S. Marines
David H. Freedman & Charles C. Krulak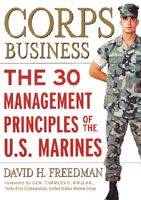 Format:
Hardcover, 240 pp.
ISBN:
9780066619798
Publisher:
HarperBusiness
Pub. Date:
April 24, 2001
Average Customer Review:

For Bulk Orders Call: 626-441-2024

Description and Reviews
From
The Publisher:
What's the best-run enterprise in the world? It just may be the Marine Corps. Far from being the hidebound, autocratic entity that most people imagine, the Corps has created a stunningly nimble, almost freewheelingly adaptive organization. The result: Though often faced with extraordinarily dynamic and complex challenges, the Marines get the job done every time.
Their secret? Don't think boot camp. Instead, the Marines have refined a wide-ranging system of management practices that have undergone continuous evolution under the most demanding conditions conceivable. Armed with these straightforward principles, any organization can achieve the high-impact responsiveness demanded by today's ultra-competitive, fast-changing business environments.
In
Corps Business
, author David H. Freedman brings these principles—and their application to the business world—-to light in clear, fascinating form. Freedman brings you along to observe, firsthand the high-speed Marine environment, where you'll take part in urban combat practice maneuvers, sit in on mission planning sessions, spend time on a "floating invasion party," and participate in a live-fire combat exercise. Along the way, you'll tap the wisdom of scores of Marines from three-star generals to grunts. Here are some examples: Managing by end-state—Tell people what needs to be accomplished and why, and leave the details to them.
The 70-percent solution—It's better to decide quickly on an imperfect plan than to spend time considering every angle and roll out a perfect plan when it's too late. Authority on demand--While retaining a strong management pyramid, encourage people even at the lowest levels to make any and all decisions necessary to accomplish the mission when management guidance isn't at hand. Anyone facing entrenched or predatory competitors, short time frames, chaotic markets, and obstacles in every direction, has a simple choice: Learn to move fast, change on the fly, and inspire employees—or die. The Marines are here to help.

Reviews
An excellent book...David Freedman's analysis of the management principles of the U.S. Marine Corps offers a compelling guide...Reading it reminded me how much I have relied upon what I learned in the Marine Corps to build FedEx.
—Frederick W. Smith, founder and chairman, Federal Express
This outstanding work reveals the leadership secrets that make the Marine Corps the world's most motivated and successful organization. The lessons are universally applicable.
—Robert A. Lutz, CEO, Exide Corp., and former president, Chrysler Corp.
On the complex, asymmetrical battlefields of the 21st Century, effective decentralized control and execution will be essential to mission success. The Corps has acknowledged this reality and has reinvigorated its efforts to prepare Marines with the leadership skills needed to deal with the high-stake challenges of the three block war...Mr. Freedman accurately captures the essence of Marine Corps leadership and thoroughly describes our unique approach to leadership training. Clearly, there is common ground between Marine leadership and business management.
—General Charles C. Krulak, 31st Commandant of the U.S. Marine Corps

About the Author
David H. Freedman is a journalist specializing in business and technology. He is a senior editor at Forbes ASAP, and his work has appeared in Inc., the
Atlantic Monthly
, the
New York Times
,
Wired, Science
, and the
Harvard Business Review
. He is the author of two critically acclaimed books on artificial intelligence and (with Charles C. Mann) on computer hacking.

Table of Contents
Foreword: The Leadership Imperative
Acknowledgments
Introduction
Planning and Decision-Making
Mission
Structure
Educating Managers
Developing Managers
Directing People
Motivating People
Culture
Tactics
Organizational Change
Sources
The Marine Corps Management Principles
Index

Find Items On Similar Subjects

The West Point Way of Leadership

Leadership Secrets of Attila the Hun

Victory Secrets of Attila the Hun