Jack Welch and the GE Way
: Management Insights and Leadership Secrets of the Legendary CEO
Robert Slater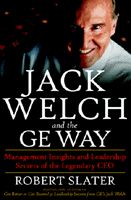 Format:
Hardcover, 328pp.
ISBN:
9780070581043
Publisher:
McGraw-Hill
Pub. Date:
September 1998
Average Customer Review:

For Bulk Orders Call: 626-441-2024

Description and Reviews
From
The Publisher:
G.E. is now the most valuable company in the world (with market capitalization in excess of $200 billion) and Jack Welch, G.E.'s CEO since 1981, is the most acclaimed CEO in the world. Even his annual letter to shareholders garners incredible press attention! Jack Welch & The G.E. Way will detail Welch's (G.E.'s) latest strategies and management secrets. It will also offer a rare look into the mind of Jack Welch illuminating his vision and prescriptions for thr future of business. Slater will highlight G.E.'s latest revolution aimed at achieving double digit growth in a boundaryless organization, and will feature over 30 of Jack Welch's leadership secrets.
Get inside the mind of Jack Welch, GE's bold innovator.
Jack Welch doesn't belive in sitting still. His innovative, breakthrough leadership strategies as CEO have transformed GE into a highly productive, labor-efficient powerhouse--with a staggering $200 billion-plus market capitalization. Now, at long last, senior managers and other executives can discover how to work the Welch magic on their own companies. "Act like a leader, not a manager." Jack Welch and the GE Way reveals the strategies and secrets that have led to Jack Welch's stunning success.
Veteran international business journalist Robert Slater, given unprecedented access to Welch and other prominent GE insiders, has crafted a brilliant protrait of what makes Jack Welch tick. "Use the brains of every worker." Jack Welch is a man with a mission. Even though he has reached the summit of success, Welch continues to shake the cage--and GE continues to be the envy of its global competitors. Read Jack Welch and the GE Way, and learn for yourself the insights and strategies that Jack Welch used to create the most valuable corporation in history.

Reviews
"Jack Welch is a genius at making all who work for him raise the level of their game. We've had some friendly differences but we always find common ground; I think he's the smartest boss I've ever had and he signs my pay checks!"
—Tom Brokaw, Anchor and Managing Editor "NBC Nightly News with Tom Brokaw"
"If leadership is an art, then surely Welch has proved himself a master painter."
—Business Week on Jack Welch.
Since Jack Welch assumed the position of CEO at General Electric in 1981, the company has soared to the top of the Fortune 500, with a market capitalization in excess of $250 billion. As Welch now nears retirement, it is useful to get another look into his thinking. The book shows his continued ability to find useful ideas and motivate his employees.
—From Library Journal 9/1/98
Slater has written two previous books on General Electric chairman and CEO Jack Welch (The New GE, 1992; Get Better or Get Beaten!, 1994), so readers might wonder whether hard-driving Welch, stoic pioneer of downsizing, has anything new to add. Slater does not disappoint in this conversationally written, solid manual that, despite its promotional hype and adulatory tone, distills Welch's business philosophy--an amalgam of Zen-like axioms, bromides and tough-minded pragmatism--in a way that will reward managers at all levels who seek to create a learning environment and transform learning into action. Companies would do well to heed Welch's advice on how to foster an open-ended, informal work atmosphere that will encourage employees to speak out, breaking down the walls of hostility between managers and subordinates. Interweaving snippets of interviews with Welch, Slater (biographer of investor George Soros) competently traces GE's transition from manufacturing to a service-oriented enterprise, its takeover and turnaround of NBC, its expansion into financial services and overseas markets. Editor, Jeffrey Krames; agent, Chris Calhoun at Sterling Lord Literistic.
—From Publisher's Weekly, September
This is a story about Welch, who, in his 17-year tenure as CEO of General Electric, has developed the firm into Fortune's 1997 choice as the most admired company in America. Also in 1997, GE led Business Week's list of all companies worldwide in market value for the second consecutive year and achieved near top ranking of the most profitable companies in the U.S. The book gives an overview of Welch's philosophy on how to manage and how not to manage and covers topics such as building a market-leading company, forging the boundaryless organization, harnessing people for competitive advantage, and pushing service and globalization for double-digit growth. This is the author's third book on Welch, and Slater enjoys complete cooperation from the subject and his company, which reaps highly effective public relations from this glowing report, although Slater contends that no approval of the manuscript was given by anyone at GE. Much can be learned from Welch's management philosophy, which has led GE to notable success in a highly competitive marketplace.
—From Booklist, Mary Whaley Copyright© 1998, American Library Association. All rights reserved

Table of Contents
| | |
| --- | --- |
| | Jack Welch Launches His Revolution |
| PART I | Act Like a Leader, Not a Manager |
| 1 | Embrace Change, Don't Fear It |
| 2 | Stop Managing, Start Leading |
| 3 | Cultivate Managers Who Share Your Vision |
| 4 | Face Reality, Then Act Decisively |
| 5 | Be Simple, Be Consistent, and Hammer Your Message Home |
| PART II | Building the Market-Leading Company |
| 6 | Be Number 1 or Number 2, But Don't Narrow Your Market |
| 7 | Look for the Quantum Leap! |
| 8 | Fix, Close, or Sell: Reviving NBC |
| 9 | Don't Focus on the Numbers |
| 10 | Plagiarize--It's Legitimate: Create a Learning Culture |
| PART III | Forging the Boundaryless Organization |
| 11 | Get Rid of the Managers, Get Rid of the Bureaucracy |
| 12 | Be Lean and Agile Like a Small Company |
| 13 | Tear Down the Boundaries |
| PART IV | Harnessing Your People for Competitive Advantage |
| 14 | Three Secrets: Speed, Simplicity, and Self-Confidence |
| 15 | Use the Brains of Every Worker--Involve Everyone |
| 16 | Take the "Boss Element" Out of Your Company |
| 17 | Create an Atmosphere Where Workers Feel Free to Speak Out |
| 18 | S-t-r-e-t-c-h! Reach for the Stars! |
| PART V | Push Service and Globalization for Double-Digit Growth |
| 19 | Grow Your Service Business--It's the Wave of the Future |
| 20 | Look to Financial Services to Bring in Earnings |
| 21 | Have Global Brains--and Build Diverse and Global Teams |
| PART VI | Drive Quality throughout the Organization |
| 22 | Live Quality--and Drive Cost and Speed for Competitive Advantage |
| 23 | Make Quality the Job of Every Employee |
| 24 | To Achieve Quality: Measure, Analyze, Improve, and Control |
| PART VII | The Toughest Boss/Most Admired Manager in America |
| 25 | Jack Welch Deals with Adversity |
| 26 | Jack Welch Deals with the Next Generation |
| PART VIII | Jack Welch's Vision for the Millennium |
| 27 | Bolstering General Electric |
| 28 | Advice for Other Companies |
| | Epilogue |
| | Acknowledgments |
| | Endnotes |
| | Index |

Find Items On Similar Subjects

Winning

Jack: Straight from the Gut

The GE Way Fieldbook
: Jack Welch's Battle Plan for Corporate Revolution

Lessons From the Top
: The Search for America's Best Business Leaders

Douglas McGregor on Management
: Revisiting the Human Side of Enterprise