Jack
: Straight from the Gut
Jack Welch with John A. Bryne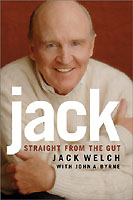 Format:
Paperback, 480pp.
ISBN:
9780446690683
Publisher:
Business Plus
Pub. Date:
October 2003
Average Customer Review:

For Bulk Orders Call: 626-441-2024

Description and Reviews
From
The Publisher:
This book is vintage Jack Welch: down to earth, powerful, and filled with common sense.
As CEO of General Electric for the past twenty years, he has built its market cap by over $500 billion and established himself as the most admired business leader in the world. His championing of initiatives like
Six Sigma
quality, globalization, and e-business have helped define the modern corporation. At the same time, he's a gutsy boss who has forged a unique philosophy and an operating system that relies on a "boundaryless" sharing of ideas, an intense focus on people, and an informal, give-and-take style that makes bureaucracy the enemy.
In anecdotal detail and with self-effacing humor, Jack Welch gives us the people (most notably his Irish mother) who shaped his life and the big hits and the big misses that characterized his career. Starting at GE in 1960 as an engineer earning $10,500, Jack learned the need for "getting out of the pile" when his first raise was the same as everyone else's. He stayed out of the corporate bureaucracy while running a $2 billion collection of GE businesses—in a sweater and blue jeans—out of a Hilton in Pittsfield, Massachusetts.
After avoiding GE's Fairfield, Connecticut headquarters for years, Jack was eventually summoned by then Chairman Reg Jones, who was planning his succession. There ensued one of the most painful parts of his career-Jack's dark-horse struggle, filled with political tension, to make it to the CEO's chair. A hug from Reg confirmed Jack was the new boss-and started the GE transformation.
Welch walks us through the "Neutron Jack" years, when GE's employment rolls fell by more than 100,000 as part of a strategy to "fix, sell, or close" each business—and how he used the purchase of RCA to provide a foundation for the company's future earnings.
There were mistakes, too—and Jack confronts them openly. In "Too Full of Myself," he describes one of the biggest blunders: the purchase of Kidder Peabody, which ran counter to GE's culture.
The riveting story of his last year—the elaborate process of selecting a successor and the attempt to buy Honeywell—is also told in compelling detail.
This book is laced with refreshing interludes, such as "A Short Reflection on Golf," that capture Jack's competitiveness and the importance of friendship in his life.
JACK: STRAIGHT FROM THE GUT
is destined to become both a business classic and a deeply personal journey filled with passion and a sheer lust for life.
All of the author's net proceeds from this book are being donated to the John F. Welch, Jr. Foundation.

Reviews
All CEOs want to emulate him...they'll come closer if they listen carefully to what he has to say.
—Warren Buffett, Chairman, Berkshire Hathaway
An American treasure...teaches us how a leader with keen intellect, guts, and honor can impart courage to people around him...
—Bernadine Healy, M.D., President and CEO, American Red Cross
Jack...took an industrial giant and turned it into an industrial colossus with a heart and a soul and a brain.
—Michael D. Eisner, Chairman and CEO, The Walt Disney Company
Jack Welch...has finally disclosed his mysteries of management...
—Nobuyuki Idei, Chairman and CEO, Sony Corporation
Jack's vision and courage...and, of course, his success, make him the role model of entrepreneurs and managers worldwide.
—Dr. Thomas Middelhoff, Chairman of the board, Bertelsmann AG

About the Author
Known as America's #1 manager,
Jack Welch
received his B.S. degree in chemical engineering from the University of Massachusetts in 1957 and his M.S. and Ph.D. degrees in chemical engineering from the University of Illinois. He joined GE in 1960 and was elected vice president in 1972 and vice-chairman in 1979. In 1981, he became the eighth chairman and CEO in the company's 121-year history. He lives in Fairfield, Connecticut.

Table of Contents
| | | |
| --- | --- | --- |
| | Author's Note | |
| | Prologue | |
| Section I: | EARLY YEARS | |
| 1 | Building Self- Confidence | |
| 2 | Getting Out of the Pile | |
| 3 | Blowing the Roof Off | |
| 4 | Flying Below the Radar | |
| 5 | Getting Closer to the Big Leagues | |
| 6 | Swimming in a Bigger Pond | |
| | | |
| Section II: | BUILDING A PHILOSOPHY | |
| 7 | Dealing with Reality and "Superficial Congeniality" | |
| 8 | The Vision Thing | |
| 9 | The Neuron Years | |
| 10 | The RCA Deal | |
| 11 | The People Factory | |
| 12 | Remaking Crotonville to Remake GE | |
| 13 | Boundaryless: Taking Ideas to the Bottom Line | |
| 14 | Deep Dives | |
| | | |
| Section III: | UPS AND DOWNS | |
| 15 | Too Full of Myself | |
| 16 | GE Capital: The Growth Engine | |
| 17 | Mixing NBC with Light Bulbs | |
| 18 | When to Fight, When to Fold | |
| | | |
| Section IV: | GAME CHANGERS | |
| 19 | Globalization | |
| 20 | Growing Services | |
| 21 | Six Sigma and Beyond | |
| 22 | E-Business | |
| | | |
| Section V: | LOOKING BACK, LOOKING FORWARD | |
| 23 | "Go Home, Mr. Welch" | |
| 24 | What This CEO Thing is All About | |
| 25 | A Short Reflection on Golf | |
| 26 | "New Guy" | |
| | | |
| | Epilogue | |
| | Acknowledgments | |
| | Appendixes | |
| | Index | |

Find Items On Similar Subjects

Winning

Jack Welch and the GE Way
: Management Insights and Leadership Secrets of the Legendary CEO

The GE Way Fieldbook
: Jack Welch's Battle Plan for Corporate Revolution

Books by or about Jack Welch