The GE Way Fieldbook
: Jack Welch's Battle Plan for Corporate Revolution
Robert Slater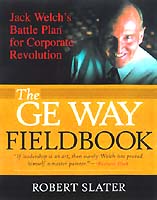 Format:
Paperback, 288pp.
ISBN:
9780071354813
Publisher:
McGraw-Hill
Pub. Date:
December 1999
Average Customer Review:

For Bulk Orders Call: 626-441-2024

Description and Reviews
From
The Publisher:
Strategic tools and techniques for implementing GE leader Jack Welch's innovative business practices--and removing the boundaries to success--within your own organization. "If management is an art, then surely Jack Welch has proved himself a master painter." Boardroom legend Jack Welch is widely regarded as one of the most effective CEOs in business history. Welch's ground breaking programs—including Six Sigma and Work-Out—along with his numerous strategies on business leadership have helped transform GE into the global benchmark for maximized productivity and labor efficiency.
Now, The GE Way Fieldbook explains how you can implement the same programs that helped turn GE into a $100 billion juggernaut. Drawing from his unprecedented access to GE's top-level corridors of power—including a never-before-published full-length interview with Jack Welch—veteran business author Robert Slater packs innovative strategies, easy-to-use diagnostic exercises, detailed questionnaires, and more into the most hands-on, applications-oriented book ever written on General Electric. Only in The GE Way Fieldbook will you find: "The Boca Raton Speeches" — Never-before-seen excerpts taken from Jack Welch's internal speeches to GE employees More than 100 exercises, overheads, and exhibits from the files of Jack Welch and GE The most complete treatment of GE's Six Sigma program ever published Step-by-step action plans that are blueprints for implementing Six Sigma and Work-Out—and creating the boundaryless organization.
The fieldbook has become one of today's most popular, effective teaching tools—but never before has one focused on the inner workings and strategies of a specific company. Let The GE Way Fieldbook give you an inside look at the stunningly successful Jack Welch era at GE, provide the techniques and tools you need to focus every worker in your organization on progress and growth, and outline a strategic road map for implementing GE's business practices—and removing the boundaries to success—within your own organization.

About the Author
Robert Slater
is the author of a number of bestselling business books, including four books on Jack Welch. A veteran journalist with more than 25 years of experience with
Time, Newsweek
, and UPI, Slater is widely regarded as one of the worlds foremost authorities on General Electric and Jack Welch.

Table of Contents
| | | |
| --- | --- | --- |
| Book I: | The GE Way: A Fieldbook for Corporate Revolution | |
| I: | The Leadership Module | |
| | Leadership I: Management Is Not Complicated | |
| | Leadership II: Ask the Right Questions | |
| | Leadership III: People Are Your Greatest Asset | |
| | Leadership IV: Reward Your Best People | |
| II: | The Empowerment Module | |
| | Work-Out I: Using the Brains of All Your Workers | |
| | Work-Out II: A Work-Out Instruction Guide | |
| III: | The Organization Module | |
| | The Boundaryless Enterprise | |
| | Learning Culture I: Creating the Learning Culture | |
| | Learning Culture II: Stealing Shamelessly | |
| | Learning Culture III: Learning from Your Employees | |
| IV: | The Customer Module | |
| | Six Sigma I: Setting the Stage | |
| | Six Sigma II: Designing a Six Sigma Program | |
| | Six Sigma III: Putting It Into Practice | |
| | Six Sigma IV: How Sigma Has Worked at GE | |
| | The GE Tool-Kit | |
| Book II: | The GE Way: The CEO in the Field | |
| | The Jack Welch Interview | |
| | The Jack Welch Speeches | |
| | The Jack Welch Letter to Share Owners, Employees and Customers | |
| | From the Files of Jack Welch (and more) | |

Find Items On Similar Subjects

Jack: Straight from the Gut

Jack Welch and the GE Way
: Management Insights and Leadership Secrets of the Legendary CEO

Lessons From the Top
: The Search for America's Best Business Leaders

Douglas McGregor on Management
: Revisiting the Human Side of Enterprise

Books by or about Jack Welch