Lessons from the Top
: The Search for America's Best Business Leaders
Thomas J. Neff and James M. Citrin with Paul B. Brown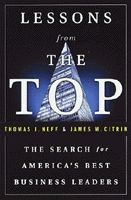 Format:
Paperback, 464pp.
ISBN:
9780385493444
Publisher:
Doubleday
Pub. Date:
April 17, 2001
Average Customer Review:

For Bulk Orders Call: 626-441-2024

Description and Reviews
From
The Publisher:
In
Lessons from the Top
, Thomas J. Neff and James M. Citrin - the U.S. Chairman and a Managing Director of the executive search firm Spencer Stuart - set out to identity the most successful business leaders in America, based on the most exacting standards imaginable. Then, in an extraordinary series of what amounts to master classes, the authors sit down with each of the fifty executives to discuss the long-term strategies, key accomplishments, guiding beliefs, and career milestones that have helped to make their organizations among the best-run companies in the world.

Reviews
From Rajat Gupta - Wall Street Journal
A truly groundbreaking book.
From Industry Standard - Michelle V. Rafter
Bernie Ebbers, a missionary's son, views his role as president and CEO of MCI WorldCom as an opportunity to serve the Lord. The last thing Autodesk Chairwoman and CEO Carol Bartz wants to be is a role model, let alone someone's mentor. Campbell Soup Chairman David Johnson says the best preparation for running a multinational company was growing up on a ranch in Australia.
Dig deep enough in Lessons From the Top and you'll find gems like these. But dig you must. This 418-page compilation of interviews with the country's top 50 business leaders is often dull, shallow and poorly organized.
The authors get an "A" for effort, though. Thomas J. Neff and James M. Citrin, respectively chairman and communications practice managing director at leading executive recruiter Spencer Stuart, tackled an ambitious job. Instead of creating a subjective list of the usual business-magazine cover boys and girls, they used quantitative research to determine top U.S. companies based on criteria like shareholder return then used that list to pick profile subjects, including the heads of several private companies and nonprofits.
The profiles, in which executives are paraphrased or quoted verbatim about such issues as leadership, competitive strategies and employee morale, are only as revealing as the men -- and 47 of 50 executives included are men -- want to be. Readers are treated to Ebbers candidly talking about how growing up as a missionary's son on a Navajo reservation helped shape his "egoless" management style. Martha Ingram, who became the chairwoman of privately held Ingram Industries after the death of her husband, Bronson, says her greatest training for the job was raising five kids.
Bartz speaks passionately against mentoring. "I've watched people who have been mentored and you just wonder why they are acting the way they are," she says. "They are trying to copy a style that may work for someone else, but it sure doesn't work for them -- and they are left with nothing."
And growing up on an Australian ranch, Campbell Soup's Johnson had an early introduction to "owner mentality" -- the idea that "what we earned and how well we did depended upon our talents and our capabilities," he says in the book.
But interviews of the 11 technology- and computer-company leaders included in Lessons are disappointing, and in some cases a bit dated. America Online Chairman Steve Case says nothing he hasn't uttered a dozen times before. The same goes for Intel's Andy Grove. The profile of Bill Gates -- who was interviewed for the book by e-mail -- makes no mention of the ongoing Justice Department investigation of Microsoft's business practices, an inexcusable omission.
Still, Lessons From the Top has its moments. As Neff and Citrin find, business leaders often share many traits, which they sum up as "doing the right things right." Their business all-stars lead by example, work from a plan, act fast, surround themselves with great people and inspire employees with more than just stock options. They're smart, articulate, hard-working, passionate about what they're doing and at peace with themselves.
That's as good a path to follow as any, for managers of Internet startups or anyone aspiring to one day occupy the corner office.

From Library Journal
Chair and communications director, respectively, of Spencer Stuart, a leading executive search firm, Ness and Citrin have selected 50 leaders from the private sector (e.g., Bill Gates, Jack Welch, and Charles Schwab) and the American Red Cross's Elizabeth Dole from the public sector to give us "lessons from the top." The authors interviewed each selectee, asking specific questions regarding personal triumphs; leadership strategies; methods of relating to subordinates, competitors, and shareholders; and why they think they run a solid, profitable, well-respected organization. This readable, comprehensive, and timely compilation complements many of the individual biographies already published, but the thought-provoking qualitative and quantitative analysis of the selection process sets this book apart. (Selection was based on Gallup findings, financial analysis, and references, with a detailed explanation of the methodology provided.) A good choice for business collections in academic and public libraries.--Steven J. Mayover, Free Lib. of Philadelphia Copyright 1999 Cahners Business Information.
From Publisher's Weekly
Headhunters Neff and Citrin of Spencer Stuart U.S. set out systematically to identify, profile, interview and capture the vision of the nation's top 50 CEOs. Through their company, they commissioned Gallup polls, gathered performance data and constructed a list of intangibles ("showed the ability to overcome challenges," "demonstrated consistent strength of character," etc.). The final results don't look all that different on the surface from countless other books purporting to offer the managerial motherlode, but in this case the difference is in the details. Interviews with AT&T's Mike Armstrong, Charles Schwab, Martha Ingram (one of four women named), Louis Gerstner, Bill Gates and Bill Marriott are all illuminating, revealing complementary aspects of captaining the ship without making redundant observations. A few of the notions even seem worker-centered: Starbucks' Howard Schultz points to the decision to provide equity and stock options to employees, even part-timers, as one of the main reasons why his company's attrition rate is below 60% annually (compared with the national average of 250%). The book is filled with such ideas, presented with a minimum of self-promotion from their purveyors. A final section of "lessons learned" offers a "new definition of success" that begins "live with integrity and lead by example." As concise and clear a management guide as readers are likely to find, this is a great tip sheet on business leadership. (Aug.) Copyright 1999 Cahners Business Information.

About the Authors
Thomas J. Neff
is Chairman of Spencer Stuart U.S. Hailed by
The Wall Street Journal
as "The No. 1 Brand Name in CEO Searches," he has been profiled on the cover of
Business Week
and in the Money & Business section of
The New York Times
.
James M. Citrin
is Managing Director of Spencer Stuart's Global Communications and Media Practice. He has authored articles in
The New York Times
and has appeared on CNBC and CNN. The authors live in Connecticut.

Table of Contents
Part I
The Search for the Best Business Leaders in America
1
Ch. 1
What Makes Business Leaders Great
3
Ch. 2
Evaluating Today's Business Leaders
11
Ch. 3
Methodology: A Closer Look at the Numbers
17
Part II
Profiles
29
Overview to Profiles
31
Mike Armstrong (AT&T): "You've got to have the guts to make a decision."
35
Carol Bartz (Autodesk): Leading by example
41
Hans Becherer (Deere): Creating customers for life
47
Gordon Bethune (Continental Airlines): It's how you'd run an airline
55
Larry Bossidy (AlliedSignal): "There was a time when I thought brains were everything."
61
Jim Broadhead (FPL Group): Execute
67
Steve Case (America Online): You've got mail
73
John Chambers (Cisco Systems): "Everybody here knows what we want to accomplish."
79
Michael Dell (Dell Computer): The power of direct
85
Elizabeth Dole (American Red Cross): Managing the nation's material, human, and inner resources
91
Bob Eaton (DaimlerChrysler): "You don't want to be a manager. You want to be a leader."
99
Bernie Ebbers (MCI WorldCom): "The only real values are the eternal ones."
105
Michael Eisner (Walt Disney): "What you are striving for is magic, not perfection."
111
Don Fisher (The Gap): The Gap Formula for Success is as easy as 1-2-3: luck, common sense, and a small ego
117
Don Fites (Caterpillar): (Earth)Mover
123
Bill Gates (Microsoft): Missionary
129
Lou Gerstner (IBM): "Once you think you can write down what made you successful, you won't be."
137
Ray Gilmartin (Merck): "Working for a higher purpose"
143
Ace Greenberg (Bear Stearns): "We hire PSDs: people who are poor, smart, and have a deep desire to be rich."
151
Hank Greenberg (AIG): "You look for white blackbirds."
157
Andy Grove (Intel): The boss must be in charge of training
163
Charles Heimbold (Bristol-Myers Squibb): Rallying - and leading - the troops
169
Martha Ingram (Ingram Industries): Keeping everything in balance
175
David Johnson (Campbell Soup): Winning
181
Herb Kelleher (Southwest Airlines): "Culture is your number-one priority."
187
Bill Kerr (Meredith): "We have to keep earning the trust of our customers."
193
Chuck Knight (Emerson Electric): "Keep it simple."
199
Dennis Kozlowski (Tyco International): "There is a lot one person can do."
205
Ralph Larsen (Johnson & Johnson): "Edicts don't work."
209
Ken Lay (Enron): The $30 billion corner store
215
Shelly Lazarus (Ogilvy & Mather): 360-degree branding
221
Bill Marriott (Marriott International): Taking care of the customers, and the people who take care of the customers
229
Lou Noto (Mobil): "You've got to do what you do well."
235
Paul O'Neill (Alcoa): "The test is how you connect with people."
241
John Pepper (Procter & Gamble): "What do you want to achieve?"
247
Frank Raines (Fannie Mae): Reluctant role model
253
Howard Schultz (Starbucks): Sharing success
259
Charles Schwab (Charles Schwab): "I am the customer."
265
Walter Shipley (Chase Manhattan): "If people feel valued, you have a much stronger company."
271
Fred Smith (FDX): "Not to be an entrepreneur is to begin the process of decline and decay."
277
Bill Steere (Pfizer): "Fads come. Fads go. We concentrate on what we do best."
285
Bob Tillman (Lowe's Companies): Bet the company, with everyone's help
291
Alex Trotman (Ford Motor Company): Drive
299
Dan Tully and David Komansky (Merrill Lynch): "There is only one question to ask: What's best for the customer?"
307
Mike Volkema (Herman Miller): Serious about business, serious about people
319
Charles Wang (Computer Associates): "You must have a moral compass."
327
Sandy Weill (Citigroup): Let's build something together
333
Jack Welch (General Electric): "I don't think anyone understands the value of informal."
339
Al Zeien (Gillette): Focus
347
Part III
Lessons Learned
353
Introduction
355
Ch. 1
The 51st Business Leader: Peter Drucker: "Yes, you want to manage for results. But what do you mean by results?"
357
Ch. 2
Doing the Right Things Right: A New Definition of Business Success
361
Ch. 3
Common Traits: A Prescription for Success in Business
379
Appendices
389
App. 1
Gallup Survey
389
App. 2
Financial Analysis Methodology
393
App. 3
Interview Guide
397
Acknowledgments: The Making of Lessons from the Top
411

Find Items On Similar Subjects

Jack: Straight from the Gut

Jack Welch and the GE Way

Leaders On Leadership

Leaders on Leading
: Insights from the Field