Focal Point
: A Proven System to Simplify Your Life, Double Your Productivity, and Achieve All Your Goals
Brian Tracy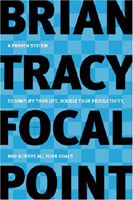 Format:
Paperback, 224pp.
ISBN:
9780814472781
Publisher:
AMACOM
Pub. Date:
October 1, 2004
Average Customer Review:

For Bulk Orders Call: 626-441-2024

Description and Reviews
From
The Publisher:
When our "ordinary" neighbor, colleague, or cousin suddenly rockets to success, most of us chalk up their good fortune to pure luck, politics, or backbreaking work. But in most cases these factors have nothing to do with it.
Author Brian Tracy lets us in on the
true secret
of high achievers: They know how to find their focal point--the one thing they should do, at any given moment, to get the best possible results in each area of their lives. In this powerful guide, Tracy brings together the very best ideas on personal management into a simple, easy-to-use plan.
Focal Point
helps readers analyze their lives in seven key areas and shows them how to develop goals and plans in each.
This book answers those nagging questions that haunt us throughout our lives:
"How can I get control of my time and my life?"
"How can I achieve maximum career success and still balance my personal life?"
"How can I handle it all and still be happy and fulfilled?"
Tracy provides timeless truths that have been discovered by effective people throughout the ages. He shows how to develop absolute clarity about who you are, what you want, and exactly how you can move quickly toward accomplishing those goals that bring you the highest level of personal satisfaction. Readers who follow these simple steps will accomplish more in the next couple of years than most people achieve in a lifetime!

Reviews
"Tracy's book offers relief to frustrated business people with too many professional and personal demands on their time."
—Time.com
After reading this book,you can accomplish more in the next coulpe of years than most people achieve in a lifetime"
—Today's Chicago Woman

About the Author
Brain Tracy
(Solana Beach, CA) is one of America's top business speakers, a best-selling author, and a leading consultant on personal and professional development. Among his more than a dozen previous books are
Maximum Achievement, Advanced Selling Strategies, The 21 Success Secrets of Self-Made Millionaires
, and
The 100 Absolutely Unbreakable Laws of Business Success
.

Table of Contents
| | | |
| --- | --- | --- |
| | Introduction | 1 |
| 1 | The Double-Double Formula | 7 |
| 2 | Your Most Precious Resource | 29 |
| 3 | Personal Strategic Planning | 43 |
| 4 | Business and Career | 57 |
| 5 | Family and Personal Life | 83 |
| 6 | Money and Investments | 101 |
| 7 | Health and Well-Being | 117 |
| 8 | Personal Growth and Development | 133 |
| 9 | Social and Community | 147 |
| 10 | Spiritual Development and Inner Peace | 159 |
| 11 | Double Your Productivity | 175 |
| 12 | Simplify Your Life | 187 |
| | Seven Rules for the 21st Century | 199 |
| | Appendix: List of Values | 205 |
| | Index | 213 |

Find Items On Similar Subjects

All Items by Brian Tracy

The 100 Absolutely Unbreakable Laws of Business Success

Create Your Own Future: How to Master the 12 Critical Factors of Unlimited Success

Success Is a Journey
: Creating a Pattern for Reaching Your Goals

How to Succeed in Business Without Working So Damn Hard
: Rethinking the Rules, Reinventing the Game