Success Is a Journey
: Creating a Pattern for Reaching Your Goals
Brian Tracy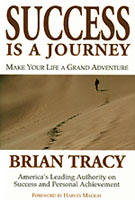 Format:
Paperback, 240pp.
ISBN:
9781890009489
Publisher:
Executive Excellence
Pub. Date:
September 1999
Average Customer Review:

For Bulk Orders Call: 626-441-2024

Description and Reviews
From
The Publisher:
If you think success is a one-step process, think again. Better yet, read on.
Success is a Journey
describes the beginning of Brian Tracy's personal journey to success and wealth. It began with an exciting dream—to travel from the west coast of America to Cape Town, South Africa. That trip led to an unexpected and dangerous confrontation with reality deep in the heart of the Sahara Desert. He would never be the same again, having learned the critical importance of courage, persistence, and the acceptance of total responsibility for one's very survival.
Using his story as a metaphor for any success in life, Brian Tracy shares how everyone can find similar lessons in their own lives. You learn the simple, yet essential steps you can take right now to achieve the greatness that lies within you. This is not a book of platitudes. This book is about life, real life—and real success, with all its ups and downs. As you read, reflect on your own journey. You, too, will find success if you faithfully carry on.

Reviews
This great book can be your key to success and happiness if you will only follow its powerful principles.
—Og Mandino

About the Author
Brian Tracy
is one of America's leading authorities on human potential and personal effectiveness, and is chairman of Brian Tracy International, a San Diego, California-based human resources company with affiliates in 31 nations worldwide. Brian has produced over 300 audio and video programs, covering the entire spectrum of human and corporate performance, including the best-selling
The Psychology of Achievement, The Psychology of Selling,
and
The Psychology of Success.

Customer Reviews
Write your own online review
.

Outstanding
June 30, 2007
Reviewer: Ravi Lai from San Francisco, CA United States
One of the BEST books I have read in a long time. I can relate to what Brian Tracy has experienced and written about, as it mirrors my own success in life. Bravo and kudos for such excellent penmanship.

Find Items On Similar Subjects

All Items by Brian Tracy

The 100 Absolutely Unbreakable Laws of Business Success

Focal Point
: A Proven System to Simplify Your Life, Double Your Productivity, and Achieve All Your Goals