Create Your Own Future
: How to Master the 12 Critical Factors of Unlimited Success
Brian Tracy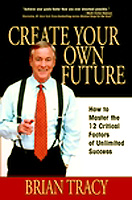 Format:
Paperback, 288pp.
ISBN:
9780471718529
Publisher:
John Wiley & Sons
Pub. Date:
April 5, 2005
Average Customer Review:

For Bulk Orders Call: 626-441-2024

Description and Reviews
From
The Publisher:
Brian Tracy is one of the most popular professional speakers and business authorities in the world today. In this fast-moving, practical book, he outlines a proven process you can use to set and achieve every goal you can imagine for yourself in the years ahead.
Tracy started off with few advantages. He left high school without graduating and worked at laboring jobs until he began asking, "Why is it that some people are more successful than others?" The answers he found changed his life, and will change yours as well.
What Tracy found was that all successful people follow a proven process. He has broken this down into twelve critical factors for unlimited success. Each of these factors is absolutely indispensable for anyone who wants to achieve their full potential in a world of virtually unlimited possibilities.
Each of these success factors is explained in detail, complete with examples and case studies that show them in action. In addition, Tracy gives you specific exercises that you can use immediately to implement each principle in your life.
Create Your Own Future
will show you how to set goals, unlock your inborn creativity, and overcome any obstacle in your path. You'll learn how to identify the key skills you need to master your field, and how to get the support of the most important people in your work and personal lives. Tracy shows you how to take complete charge of yourself and your environment, become an expert in your field, achieve complete financial independence, and develop the habits of all high-performing men and women.
This book is for ambitious people who want to get ahead faster than they ever could on their own. It brings together the very best findings of thousands of books and articles, combined with Tracy's work as a consultant or trainer to more than 500 corporations and more than two million people in twenty-three countries.
No matter what your business or occupation, Tracy will help you reach new heights of success with simple, practical ideas and tools for maximizing your potential. You too will see how you can attain all your ambitions by utilizing the Law of Probabilities and turning it to your advantage. You'll learn how to create your own "luck" by doing certain things every day that dramatically increase the likelihood that you will succeed at anything you attempt.
Create Your Own Future
will help you build the positive, optimistic, and result-oriented attitudes and behaviors that virtually guarantee that you will achieve at a higher level. You'll learn how to become the kind of person who attracts people, ideas, and opportunities that help you achieve your goals faster than ever before.

Reviews
"As usual, Brian Tracy gets right to the heart of the matter. Success is predictable, but this powerful and practical book shows you how to create your own luck and take charge of your life."
—Lee Iacocca, Chairman, Lee Iacocca & Associates
"Brian Tracy has done it again.
Create Your Own Future
is another winner. This powerful, practical book shows you how to create your own luck, take charge of your life, and make your future whatever you want it to be."
—Ken Blanchard, coauthor of The One Minute Manager® and Whale Done!
"Brian Tracy has done it again. This work will change your life and accelerate your success if you simply follow the steps."
—Tony Jeary, Mr. Presentation™ and author of Inspire Any Audience
"Anyone who has the desire to be successful in business and life must read Create Your Own Future."
—Jeff Rosen, Executive Vice President, U.S. Bank
"
Create Your Own Future
is the most powerful way to skyrocket your success because it gives you twelve solid steps you can take to dramatically increase your results almost immediately!"
—Mitch Huhem, President, MIT
"Brian Tracy has done it again! In
Create Your Own Future
, you learn twelve powerful, practical steps to take control of your life and turbocharge your success. This book is a must-read for anyone who wants to accelerate their accomplishments!"
—Dr. Tony Alessandra, author of The Platinum Rule and Charisma


Reader's Index
• "The way that you talk to yourself and explain things to yourself largely determines how you feel about what is going on around you. In other words, it is not what happens to you, but how you
interpret
what happens to you, that determines your response, positive or negative." Pg. 102
• "Your decisions about time usage tell you who you really are, what you really want, and where you are going in your life." Pg. 183

About the Author
Brian Tracy
is Chairman and CEO of Brian Tracy International, a consulting and training organization with affiliates in twenty-two countries. As one of the top professional business speakers in the world, he has given more than 2,000 presentations and addressed audiences as large as 23,000 people. He has published twenty-six books and more than 300 audio and video learning programs, many of which have been translated into multiple languages and are sold worldwide.

Table of Contents
Introduction: There Are No Limits
1
Success Is Predictable
1
2
Principle 1 - Your Potential Is Unlimited
15
3
Principle 2 - Clarity Is Critical
29
4
Principle 3 - Knowledge Is Power
51
5
Principle 4 - Mastery Is Magical
73
6
Principle 5 - Attitude Is Everything
97
7
Principle 6 - Relationships Are Essential
115
8
Principle 7 - Money Matters
135
9
Principle 8 - You Are a Genius
155
10
Principle 9 - Results Determine Rewards
175
11
Principle 10 - Seize the Day!
195
12
Principle 11 - Character Counts
217
13
Principle 12 - Fortune Favors the Brave
235
14
The Summing Up: Make Your Life a Masterpiece
255
Brian Tracy's Focal Point: Advanced Coaching and Mentoring
259
Index
263
About the Author
275

Find Items On Similar Subjects

All Items by Brian Tracy

Create Your Own Future
: How to Master the 12 Critical Factors of Unlimited Success -
Paperback

The 100 Absolutely Unbreakable Laws of Business Success

Focal Point
: A Proven System to Simplify Your Life, Double Your Productivity, and Achieve All Your Goals

Success Is a Journey
: Creating a Pattern for Reaching Your Goals