Control Your Destiny or Someone Else Will
Noel M. Tichy and Stratford Sherman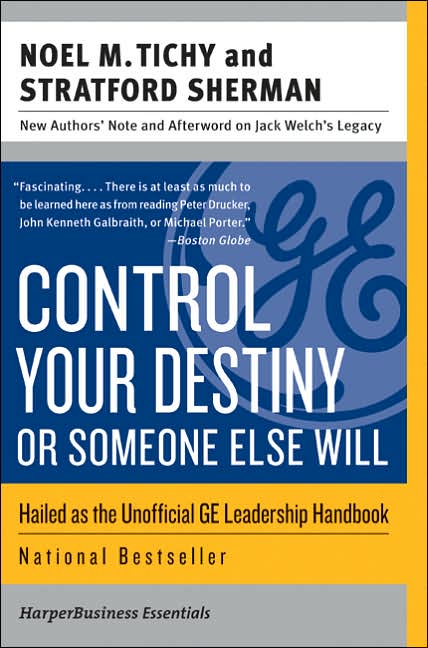 Format:
Paperback, 720pp.
ISBN:
9780060753832
Publisher:
Harperbusiness
Pub. Date:
Revised edition (April 5, 2005)
Average Customer Review:

For Bulk Orders Call: 626-441-2024

Description and Reviews
From
The Publisher:
The Best Analysis of Jack Welch's GE, Now Freshly Revised
A business classic -- now completely revised -- hailed as the unofficial GELeadership handbook.
Completely revised, with two new chapters by the authors, an added chapter-length interview with Jack Welch, plus the complete set of Welch's GE annual letters to shareholders, this title remains the classic CASE STUDY of how Welch transformed GE from a corporate dinosaur into one of the nimblest, most successful corporations in the world, and provides a useful handbook for effecting change in your business and your life.
Since Welch became its CEO in 1981, GE has become one of the most successful companies of the late 20th century, increasing its market value from $13 billion to over $400 billion. Welch has been hailed by "60 Minutes" as the best executive in the world. This success can be attributed in large part to Jack Welch, GE's dynamic CEO who transformed the company from a bureaucratic behemoth into a fierce competitor in the global marketplace.
Welch formulated six principles which have guided the revolution:
1. Control your destiny, or someone else will.
2. Face reality as it is, not as it was, or as you wish it were.
3. Be candid with everyone.
4. Don't manage, lead.
5. Change before you have to.
6. If you don't have a competitive advantage, don't compete.
Following these principles, Welch has introduced a new management style at GE that reduces hierarchy and bureaucracy, empowers individuals, and seeks consensus based on shared corporate values. Yet the authors make clear that Welch does not limit the application of the principles to the running of GE. They are adaptable to a wide range of situations, from business to daily life.
Among the many books that have been written about GE, Control Your Destiny stands out. Its authors are uniquely qualified to explain Welch's transformation of GE and to explain the leadership lessons it reveals. Noel Tichy ran GE's Crotonville school during the start of the Welch era, while Stratford Sherman covered GE for Fortune magazine. Together, they study GE with a remarkable blend of inside knowledge and clear-eyed objectivity. Their narrative -- studied at business schools nationwide -- is extraordinarily thorough, thoughtful, and rich in insight.

Reviews
The first scholarly attempt to pin down the secrets of GE's success. A helpful, clear account...with interesting case studies.
—Financial Times
Fascinating reading. There is at least as much to be learned here as from reading Peter Drucker, John Kenneth Galbraith, or Michael Porter.
—Boston Globe
IBM. GM. Blow after blow is absorbed by America's recent bellwether firms. At times, only GE seems to be counterpunching--and attacking. Control Your Destiny is an exciting rendition of the Welch revolution. Read it carefully.
—Tom Peters, author of Liberation Management

About the Author
Noel M. Tichy
is a professor at the University of Michigan Business School, where he specializes in leadership and organizational transformation. As a senior partner in Action Learning Associates, Professor Tichy has consulted with clients around the world.

Find Items On Similar Subjects

The Leadership Engine

Jack: Straight from the Gut

Jack Welch and the GE Way
: Management Insights and Leadership Secrets of the Legendary CEO

Books by or about Jack Welch