The Leadership Engine
: How Winning Companies Build Leaders at Every Level
Noel M. Tichy with Eli B. Cohen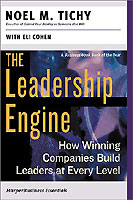 Format:
Paperback, 464pp.
ISBN:
9780887309311
Publisher:
Harperbusiness
Pub. Date:
August 2002
Average Customer Review:

For Bulk Orders Call: 626-441-2024

Description and Reviews
From
The Publisher:
Noel Tichy has observed that winning corporations, without exception, are distinguished by their ability to grow leadership at every level, an ability that ultimately creates a pool of formidable home-grown talent that can be drawn on whenever top management jobs need to be filled. Based on extensive consultations with such leading companies as PepsiCo, Royal Dutch/Shell and Ford Motor Company, The Leadership Engine helps businesses cultivate this ability by showing how to foster a corporate atmosphere that nurtures leadership and initiative. Tichy explains that top leaders must develop a teachable point of view on business ideas and values, and they must have a personal vision that can be codified, embodied as a story and communicated throughout the organization.
There's a reason why blue-chip companies from around the world such as General Motors, Proctor & Gamble, Chase Manhattan, Sony and Honda pay $35,000 dollars per participant to have their executives attend Noel Tichy's famed Global Leadership Program: He delivers phenomenal results. In The Leadership Engine, he comes through once again, presenting a dynamic and groundbreaking work for all companies who want to develop the depth of talent they need to successfully compete at the highest levels.

Reviews
Noel Tichy has been a point guard on the management of organizations. ... The Leadership Engine focuses on how leaders of organizations use their whole being in creative managing. The book is an inspiration to teachers, business leaders, and coaches.
—Phil Jackson, coach of the Chicago Bulls
This is Noel Tichy's summa. His text models the leaders he profiles: brilliant, clear on values, and gutsy as hell. The research base is awesome. The stories are great. The message is spot-on. The path to action is clear.
—Tom Peters, author of In Search of Excellence
Periodically, all successful organizations have to change. Once a crisis has occurred, any organization will change, but waiting for a crisis is not often the route to success. How to large organizations change without a crisis? Noel Tichy correctly finds the answer in leadership--a leadership that permeates an organization at all levels.
—Lester Thurow, bestselling author of Head to Head and The Future of Capitalism
This book is the most valuable of the lot because it solidly confronts a vexing problem today--the lack of leaders who are willing to take their organizations through fundamental change. From Congress to the boardroom to the computer room, the qualities discussed are in short supply. If you think you've got what it takes, Tichy offers a comprehensive handbook for developing a leadership program at your workplace.
—Computerworld
Tichy and co-writer Cohen provide a novel take on a well-worn topic and refreshingly introduce us to a host of new leaders who don't yet wear crowns. ... Too few managers and executives understand the importance of mentoring. In elevating this role to the top of a leader's priorities, the authors offer managers a way of becoming ever more influential.
—Business Week

About the Author
Noel M. Tichy
, the bestselling author of
The Leadership Engine
and
Control Your Destiny
, is a professor at the University of Michigan Business School, the director of the school's Global Leadership Partnership, and a worldwide adviser to CEOs on leadership and transformation. He lives in Ann Arbor, Michigan.

Table of Contents
| | | |
| --- | --- | --- |
| | Acknowledgments | |
| | Preface | |
| | Introduction | |
| 1 | The Leader-Driven Organization | |
| 5 | Why Are Leaders Important? | |
| 6 | Leadership and the Teachable Point of View | |
| 7 | Past as Prologue--Learning from Experience | |
| 8 | The Heart of Leadership--It Starts with Ideas | |
| 9 | Values—Speaking with Words and Action | |
| 10 | Making It Happen—Getting Energy Out of Everyone | |
| 11 | Edge—The Courage to See Reality and Act on It | |
| 12 | Tying It All Together—Writing Your Leadership Story | |
| 10 | Conclusion—Leading into the Future Handbook for Leaders Developing Leaders—The Leadership Engine: A Teachable Point of View | |
| | Notes | |
| | Sources | |
| | Index | |

Find Items On Similar Subjects

Leadership By Design

The Will To Lead
: Running a Business With a Network of Leaders

Control Your Destiny or Someone Else Will