Thinking for a Change
: 11 Ways Highly Successful People Approach Life and Work
John C. Maxwell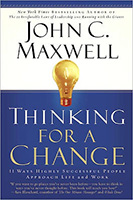 Format:
Paperback, 288pp.
ISBN:
9780446692885
Publisher:
Center Street
Pub. Date:
July 1, 2005
Average Customer Review:

For Bulk Orders Call: 626-441-2024

Description and Reviews
From
The Publisher:
From
The Publisher:
At the heart of John C. Maxwell's brilliant and inspiring book is a simple premise: To do well in life, we must first think well. But can we actually learn new mental habits?
Thinking for a Change
answers that with a resounding "yes"—and shows how changing your thinking can indeed change your life.
Drawing on the words and deeds of many of the world's greatest leaders and using interactive quizzes, this empowering book helps you assess your thinking style, guides you to new ones, and step by step teaches you the secrets of:
Big-Picture Thinking-seeing the world beyond your own needs and how that leads to great ideas
Focused Thinking-removing mental clutter and distractions to realize your full potential
Creative Thinking-stepping out of the "box" and making breakthroughs
Shared Thinking-working with others to compound results
Reflective Thinking-looking at the past to gain a better understanding of the future
...and much more.
Here America's most trusted and admired motivational teacher examines the very foundation of success and self-transformation. Illuminating and life-changing,
Thinking for a Change
is a unique primer not on what to think, but how to best use one of your most precious possessions: your mind.

Reviews
"If you want to go places you've never been before-you have to think in ways you've never thought before. This book by John Maxwell will teach you how to do that!"
—Ken Blanchard, coauthor of The One Minute Manager® and Whale Done!
"In this important and very readable book, John Maxwell will teach you how to think in a way that will keep you ahead in these turbulent times and create exciting new opportunities and possibilities."
—Robert J. Kriegel, Ph.D., coauthor of If It Ain't Broke...Break it!
"John Maxwell has done it again! His clear thinking about the power of good thinking will make a difference in your life and career. This book will surely be a classic!"
—Jim Blanchard, chairman and CEO, Synovus
"Maxwell has another great one here….An important topic that doesn't get discussed enough."
—Tim Flanagan Jr., vice president, MassMutual Financial Group
"How we think is how we behave, and how we behave is who we are. To take yourself and your organization to the next level, you must always think beyond the next level.
Thinking for a Change
shows you how to do just that."
—Thomas F. Chapman, chairman and CEO, Equifax, Inc.
"Masterful....John Maxwell is a phenomenon, and he never ceases to amaze me!
Thinking for a Change
is destined for the bestseller list and it's easy to understand why….
Thinking for a Change
will change the way you think. I encourage you to buy it now."
—James M. Kouzes, coauthor of The Leadership Challenge and Encouraging the Heart and chairman emeritus, Tom Peters Company

About the Author
In 1985,
John C. Maxwell
founded The INJOY Group, a collection of three distinct companies that employ 200 people and provide resources and services that help people reach their personal and leadership potential. In addition to building a successful organization, John has authored more than thirty books, including the New York Times best sellers
The 21 Irrefutable Laws of Leadership
and
Failing Forward
.
Called the nation's foremost expert on leadership, John was born in central Ohio five and a half decades ago. He credits his excellent leadership instincts and his early leadership training to his father, Melvin Maxwell, whom he followed into the ministry. For over twenty-five years, John led churches in Indiana, Ohio, and California.
In 1995, John began dedicating himself full-time to writing, speaking, and consulting. Each year he speaks live to more than 350,000 people. Known as a dynamic communicator, he is in high demand on the topic of leadership, and he speaks to many American corporations and entrepreneurial organizations. He also is a popular speaker for churches, non-profits, sports organizations, and television programs. In addition, he dedicates time each year to teaching leadership internationally.
John has earned bachelor's, master's, and doctoral degrees and has also received five honorary doctorates. He lives in Atlanta, Georgia, with his wife of over thirty years and enjoys spending time with his two grown children and his grandchildren.

Find Items On Similar Subjects

All Items by John Maxwell

Leadership 101

The 21 Indispensable Qualites of a Leader

Becoming A Person of Influence

The 17 Indisputable Laws of Teamwork
: Embrace Them and Empower Your Team