The 21 Indispensable Qualities of a Leader
: Becoming the Person Others Will Want to Followr
John C. Maxwell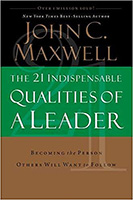 Format:
Hardcover, 157pp.
ISBN:
9780785289043
Publisher:
Thomas Nelson, Inc
Pub. Date:
September 18, 2007
Average Customer Review:

For Bulk Orders Call: 626-441-2024

Description and Reviews
From
The Publisher:
"Everything rises and falls on leadership," says Dr. Maxwell, "but knowing how to lead is only half the battle. Understanding leadership and actually leading are two different activities." Dr. Maxwell explains that the key to transforming yourself from someone who understands leadership to a person who successfully leads in the real world is character. Your character qualities activate and empower your leadership ability, or they can stand in the way of your success! In his latest book, Dr. Maxwell discusses several other key attributes to being a good leader including:
Charisma: The First Impression Can Seal the Deal
Courage: One Person With Courage Is a Majority
Problem Solving: You Can't Let Your Problems Be a Problem
Teachability: To Keep Leading, Keep Learning
Vision: You can Seize Only What You Can See
If you look at all great leaders of the past and present, you'll find that they possess the 21 qualities that are discussed in
The 21 Indispensable Qualities of a Leader
. If you can become the leader you ought to be on the inside, you will be able to become the leader that you want to be on the outside. "If you are able to do that," says Maxwell, "you'll find there's nothing in this world you cannot do."

Reviews
"
The 21 Indispensable Qualities of a Leader
gets straight to the heart of leadership issues. Maxwell once again touches on the process of developing the art of leadership by giving the reader practical tools and insights into developing the qualities found of great leaders."
—Ken Blanchard, coauthor, The One Minute Manager

About the Author
John Maxwell
known as America's expert on leadership, is founder of the INJOY Group, an organization dedicated to helping people maximize their personal and leadership potential. Each year Maxwell speaks in person to more than 250,000 people and influences the lives of more than one million people through seminars, books and tapes. He is the best selling author of twenty-five books, including
The 21 Irrefutable Laws of Leadership, Failing Forward, Developing the Leader Within You,
and
The 21 Indispensable Qualities of a Leader.
He lives in Atlanta, Georgia.

Table of Contents
| | | |
| --- | --- | --- |
| | Acknowledgements | vii |
| | Introduction | ix |
| 1 | Character: Be a Piece of the Rock | 1 |
| 2 | Charisma: The First Impression Can Steal the Deal | 1 |
| 3 | Commitment: It Separates Doers from Dreamers | 15 |
| 4 | Communication: Without It You Travel Alone | 23 |
| 5 | Competence: If You Build It, They Will Come | 30 |
| 6 | Courage: One Person with Courage Is a Majority | 37 |
| 7 | Discernment: Put an End to Unsolved Mysteries | 44 |
| 8 | Focus: The Sharper It Is, the Sharper You Are | 51 |
| 9 | Generosity: Your Candle Loses Nothing When It Lights Another | 58 |
| 10 | Initiative: You Won't Leave Home Without It | 66 |
| 11 | Listening: To Connect With Their Hearts, Use Your Ears | 74 |
| 12 | Passion: Take This Life and Love It | 81 |
| 13 | Positive Attitude: If You Believe You Can, You Can | 88 |
| 14 | Problem Solving: You Can't Let Your Problems Be a Problem | 95 |
| 15 | Relationships: If You Get Along, They'll Go Along | 103 |
| 16 | Responsibility: If You Won't Carry the Ball, You Can't Lead the Team | 111 |
| 17 | Security: Competence Never Compensates for Insecurity | 118 |
| 18 | Self-Discipline: The First Person You Lead Is You | 125 |
| 19 | Servanthood: To Get Ahead, Put Others First | 133 |
| 20 | Teachability: To Keep Leading, Keep Learning | 141 |
| 21 | Vision: You Can Seize Only What You Can See | 148 |
| | Conclusion | 155 |
| | About the Author | 157 |

Find Items On Similar Subjects

All Items by John Maxwell

The 21 Most Powerful Minutes in a Leader's Day

The 21 Irrefutable Laws of Leadership

The Right to Lead
: A Study in Character and Courage

The 17 Indisputable Laws of Teamwork
: Embrace Them and Empower Your Team