BROWSE BY:
Author

OTHER SUBJECTS:
Becoming a Leader
Biography
Business
Family Life
Harvard Business
School Press
Personal
Development
Reference


SIGN-UP:
Keep Me Informed
For more informaation on John Maxwell's leadership and teamwork training go to INJOY.







ABOUT THE AUTHOR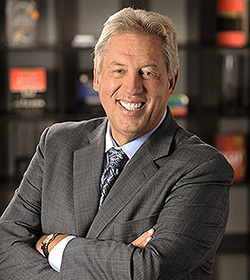 In 1985, John Maxwell founded The INJOY Group, a collection of three distinct companies that employ 200 people and provide resources and services that help people reach their personal and leadership potential. In addition to building a successful organization, John has authored more than thirty books, including the New York Times best sellers The 21 Irrefutable Laws of Leadership and Failing Forward.

Called the nation's foremost expert on leadership, John was born in central Ohio five and a half decades ago. He credits his excellent leadership instincts and his early leadership training to his father, Melvin Maxwell, whom he followed into the ministry. For over twenty-five years, John led churches in Indiana, Ohio, and California.

In 1995, John began dedicating himself full-time to writing, speaking, and consulting. Each year he speaks live to more than 350,000 people. Known as a dynamic communicator, he is in high demand on the topic of leadership, and he speaks to many American corporations and entrepreneurial organizations. He also is a popular speaker for churches, non-profits, sports organizations, and television programs. In addition, he dedicates time each year to teaching leadership internationally.

John has earned bachelor's, master's, and doctoral degrees and has also received five honorary doctorates. He lives in Atlanta, Georgia, with his wife of over thirty years and enjoys spending time with his two grown children and his grandchildren.

Two of John's favorite books are How to Win Friends & Influence People by Dale Carnegie, and As a Man Thinketh by James Allen.




RESOURCES AVAILABLE BY JOHN C. MAXWELL

The 5 Levels of Leadership: Proven Steps to Maximize Your Potential
John C. Maxwell


Retail Price: $25.99
LS Price: $17.67
You Save: $8.32 (32%)

Availability: Usually ships within 24 hours
Format: Hardcover, 304pp.
ISBN: 9781599953656
Publisher: Center Street
Pub. Date: October 4, 2006


The 17 Essential Qualities Of A Team Player: Becoming The Kind Of Person Every Team Wants
John C. Maxwell


Retail Price: $19.99
LS Price: $13.59
You Save: $6.40 (32%)

Availability: Usually ships within 24 hours
Format: Hardcover, 156pp.
ISBN: 9780785288817
Publisher: Thomas Nelson Publishers
Pub. Date: October 13, 2006
The 17 Indisputable Laws of Teamwork



The 17 Indisputable Laws of Teamwork: Embrace Them and Empower Your Team
John C. Maxwell



Retail Price: $24.99
LS Price: $16.99
You Save: $8.00 (32%)
Availability: Usually ships within 24 hours
Format: Hardcover, 256pp.
ISBN: 9780785274346
Publisher: Thomas Nelson Publishers
Pub. Date: July 31, 2001




The 17 Indisputable Laws of Teamwork Audio CD
John C. Maxwell



Retail Price: $24.99
LS Price: $17.49
You Save: $7.50 (30%)
Availability: Usually ships within 24 hours
Format: Audio CD
ISBN: 9780785260325
Publisher: Thomas Nelson Publishers
Pub. Date: September 8, 2004




The 17 Indisputable Laws of Teamwork Workbook
John C. Maxwell



Retail Price: $17.99
LS Price: $12.23
You Save: $5.76 (32%)
Availability: Usually ships within 24 hours
Format: Paperback, 240pp.
ISBN: 0785265767
Publisher: Thomas Nelson Publishers
Pub. Date: February 2003


The 21 Indispensable Qualities of a Leader: Becoming the Person Others Will Want to Follow
John C. Maxwell


Retail Price: $19.99
LS Price: $13.59
You Save: $6.40 (32%)
Availability: Usually ships within 24 hours
Format: Hardcover, 176pp.
ISBN: 0785289043
Publisher: Thomas Nelson, Inc
Pub. Date: September 18, 2007
The 21 Irrefutable Laws of Leadership



The 21 Irrefutable Laws of Leadership: Follow Them and People Will Follow You
John C. Maxwell



Retail Price: $25.99
LS Price: $17.15
You Save: $8.84 (34%)
Availability: Usually ships within 24 hours
Format: Hardcover, 304pp.
ISBN: 9780785288374
Publisher: Thomas Nelson Publishers
Pub. Date: September 18, 2007




The 21 Irrefutable Laws of Leadership: Follow Them and People Will Follow You Workbook
John C. Maxwell



Retail Price: $19.99
LS Price: $13.59
You Save: $6.40 (32%)
Availability: Usually ships within 24 hours
Format: Paperback, 240pp.
ISBN: 9781418526153
Publisher: Thomas Nelson Publishers
Pub. Date: September 18, 2007
The 21 Most Powerful Minutes in a Leader's Day



The 21 Most Powerful Minutes in a Leader's Day : Revitalize Your Spirit and Empower Your Leadership
John C. Maxwell



Retail Price: $15.99
LS Price: $11.18
You Save: $4.81 (30%)
Availability: Usually ships within 24 hours
Format: Paperback, 384pp.
ISBN: 9780785289272
Publisher: Thomas Nelson
Pub. Date: September 18, 2007


25 Ways to Win with People : How to Make Others Feel Like a Million Bucks
John C. Maxwell and Les Parrott


Retail Price: $19.99
LS Price: $13.59
You Save: $6.40 (32%)

Availability: Usually ships within 24 hours
Format: Hardcover, 208pp.
ISBN: 0785260943
Publisher: Nelson Publishers
Pub. Date: June 7, 2005
The 101 Series



Attitude 101: What Every Leader Needs to Know
John C. Maxwell



Retail Price: $9.99
LS Price: $7.99
You Save: $2.00 (20%)
Availability: Usually ships within 24 hours
Format: Hardcover, 96pp.
ISBN: 9780785263500
Publisher: Thomas Nelson Publishers
Pub. Date: January 2002




Equipping 101 : What Every Leader Needs To Know
John C. Maxwell



Retail Price: $9.99
LS Price: $7.99
You Save: $2.00 (20%)
Availability: Usually ships within 24 hours
Format: Hardcover, 112pp.
ISBN: 9780785263524
Publisher: Nelson Business
Pub. Date: January 15, 2004




Ethics 101 : What Every Leader Needs To Know
John C. Maxwell



Retail Price: $9.95
LS Price: $7.95
You Save: $2.00 (20%)
Availability: Usually ships within 24 hours
Format: Hardcover, 126pp.
ISBN: 9780446578097
Publisher: Center Street
Pub. Date: October 2002




Leadership 101 : What Every Leader Needs To Know
John C. Maxwell



Retail Price: $9.99
LS Price: $7.99
You Save: $2.00 (20%)
Availability: Usually ships within 24 hours
Format: Hardcover, 96pp.
ISBN: 9780785264194
Publisher: Thomas Nelson
Pub. Date: September 2002




Mentoring 101 : What Every Leader Needs To Know
John C. Maxwell



Retail Price: $9.99
LS Price: $7.99
You Save: $2.00 (20%)
Availability: Usually ships within 24 hours
Format: Hardcover, 96pp.
ISBN: 9781400280223
Publisher: Nelson Business
Pub. Date: September 9, 2008




Relationships 101 : What Every Leader Needs To Know
John C. Maxwell



Retail Price: $9.99
LS Price: $7.99
You Save: $2.00 (20%)
Availability: Usually ships within 24 hours
Format: Hardcover, 112pp.
ISBN: 9780785263517
Publisher: Nelson Business
Pub. Date: January 15, 2004




Success 101 : What Every Leader Needs To Know
John C. Maxwell



Retail Price: $9.99
LS Price: $7.99
You Save: $2.00 (20%)
Availability: Usually ships within 24 hours
Format: Hardcover, 96pp.
ISBN: 9781400280230
Publisher: Nelson Business
Pub. Date: September 9, 2008


The 360 Degree Leader: Developing Your Influence from Anywhere in the Organization
John C. Maxwell


Retail Price: $25.99
LS Price: $17.15
You Save: $8.84 (34%)

Availability: Usually ships within 24 hours
Format: Hardcover, 336pp.
ISBN: 0785260927
Publisher: Nelson Business
Pub. Date: January 10, 2006


The 360 Degree Leader: Developing Your Influence from Anywhere in the Organization
John C. Maxwell


Retail Price: $16.99
LS Price: $11.55
You Save: $5.44 (32%)

Availability: Usually ships within 24 hours
Format: Paperback, 368pp.
ISBN: 9781400203598
Publisher: Nelson Business
Pub. Date: October 18, 2011


Becoming a Person of Influence : How To Positively Impact the Lives of Others
John C. Maxwell


Retail Price: $15.99
LS Price: $10.87
You Save: $5.12 (32%)
Availability: Usually ships within 24 hours
Format: Paperback, 224pp.
ISBN: 9780785288398
Publisher: Thomas Nelson Publishers
Pub. Date: August 29, 2006
Developing the Leader Within You



Developing the Leader Within You Hardcover
John C. Maxwell



Retail Price: $24.99
LS Price: $16.49
You Save: $8.50 (34%)
Availability: Usually ships within 24 hours
Format: Hardcover, 224pp.
ISBN: 9780785266662
Publisher: Thomas Nelson Publishers
Pub. Date: January 2001 / 2nd Rev Edition




Developing the Leader Within You Paperback
John C. Maxwell



Retail Price: $16.99
LS Price: $11.55
You Save: $5.44 (32%)
Availability: Usuall ships within 24 hours.
Format: Paperback, 224pp.
ISBN: 9780785281122
Publisher: Thomas Nelson
Pub. Date: October 6, 2005




Developing the Leader Within You Workbook
John C. Maxwell



Retail Price: $19.99
LS Price: $13.59
You Save: $6.40 (32%)
Availability: Usually ships within 24 hours
Format: Paperback, 224pp.
ISBN: 9780785267256
Publisher: Thomas Nelson
Pub. Date: January 2001


Developing the Leaders Around You: How to Help Others Reach Their Full Potential
John C. Maxwell


Retail Price: $14.99
LS Price: $10.19
You Save: $4.80 (32%)
Availability: Usually ships within 24 hours
Format: Paperback, 224pp.
ISBN: 9780785281115
Publisher: Thomas Nelson
Pub. Date: October 4, 2005


The Difference Maker: Making Your Attitude Your Greatest Asset
John C. Maxwell


Retail Price: $19.99
LS Price: $13.59
You Save: $6.40 (32%)
Availability: Usually ships within 24 hours
Format: Hardcover, 208pp.
ISBN: 9780785260981
Publisher: Thomas Nelson
Pub. Date: August 29, 2006


The Difference Maker: Making Your Attitude Your Greatest Asset Audio CD
John C. Maxwell


Retail Price: $17.99
LS Price: $12.23
You Save: $5.76 (32%)
Availability: Usually ships within 24 hours
Format: Audio CD, 2 CDs.
ISBN: 9780785260998
Publisher: Thomas Nelson
Pub. Date: August 29, 2006


Failing Forward: How to Make the Most of Your Mistakes
John C. Maxwell


Retail Price: $24.99
LS Price: $16.49
You Save: $8.50 (34%)
Availability: Usually ships within 24 hours
Format: Hardcover, 224pp.
ISBN: 0785274308
Publisher: Thomas Nelson Publishers
Pub. Date: March 2000


Failing Forward: How to Make the Most of Your Mistakes
John C. Maxwell


Retail Price: $14.99
LS Price: $11.99
You Save: $3.00 (20%)
Availability: Usually ships within 24 hours
Format: Paperback, 224pp.
ISBN: 9780785288572
Publisher: Thomas Nelson Publishers
Pub. Date: April 3, 2007


Leadership Gold: Lessons I've Learned from a Lifetime of Leading
John C. Maxwell


Retail Price: $25.99
LS Price: $17.15
You Save: $8.84 (34%)
Availability: Usually ships within 24 hours.
Format: Hardcover, 256pp.
ISBN: 9780785214113
Publisher: Thomas Nelson
Pub. Date: April 1, 2008

Leading as a Friend
(PowerPak Collection Series)
John C. Maxwell
Retail Price: $3.99

Availability: Out-of-Print
Format: Paperback, 88pp.
ISBN: 0849977274
Publisher: Tommy Nelson
Pub. Date: June 2001

Leading at School
(PowerPak Collection Series)
John C. Maxwell
Retail Price: $3.99
LS Price: $3.39
You Save: $.60 (15%)
Availability: Usually ships within 24 hours
Format: Paperback, 88pp.
ISBN: 084997724X
Publisher: Tommy Nelson
Pub. Date: June 2001


The Right to Lead: Learning Leadership Through Character and Courage
John C. Maxwell


Retail Price: $14.95
LS Price: $10.20
You Save: $4.75 (32%)
Availability: Usually ships within 24 hours
Format: Hardcover, 128pp.
ISBN: 9781404189423
Publisher: Thomas Nelson Pub
Pub. Date: May 18, 2010


Maxwell 3-in-1: The Winning Attitude, Developing the Leaders Around You, Becoming A Person of Influence
John C. Maxwell


Retail Price: $16.99
LS Price: $11.55
You Save: $5.44 (32%)
Availability: Usually ships within 24 hours
Format: Hardcover, 672pp.
ISBN: 9780785268406
Publisher: Thomas Nelson Pub
Pub. Date: September 2000


Put Your Dream to the Test: 10 Questions that Will Help You See It and Seize It
John C. Maxwell


Retail Price: $25.99
LS Price: $17.67
You Save: $8.32 (32%)
Availability: Usually ships within 24 hours
Format: Hardcover, 272pp.
ISBN: 9780785214120
Publisher: Thomas Nelson
Pub. Date: March 31, 2009


Running with the Giants: What Old Testament Heroes Want You to Know About Life and Leadership
John C. Maxwell


Retail Price: $12.95
LS Price: $10.36
You Save: $2.59 (20%)
Availability: Usually ships within 24 hours
Format: Hardcover, 112pp.
ISBN: 9780446530699
Publisher: Warner Books
Pub. Date: September 2002


Talent Is Never Enough: Discover the Choices That Will Take You Beyond Your Talent
John C. Maxwell


Retail Price: $25.99
LS Price: $17.66
You Save: $8.33 (32%)
Availability: Usually ships within 24 hours
Format: Hardcover, 272pp.
ISBN: 9780785214038
Publisher: Nelson Business
Pub. Date: April 3, 2007

Talent Is Never Enough Workbook
John C. Maxwell
Retail Price: $17.99
LS Price: $12.23
You Save: $5.76 (32%)
Availability: Usually ships within 24 hours
Format: Paperback, 256pp.
ISBN: 9781418527730
Publisher: Nelson Business
Pub. Date: April 3, 2007

Teamwork Makes the Dreamwork
John C. Maxwell
Retail Price: $14.99
LS Price: $10.19
You Save: $4.80 (32%)
Availability: Usually ships within 24 hours
Format: Hardcover, 120pp.
ISBN: 9780849955082
Publisher: W Publishing Group
Pub. Date: April 2002

There's No Such Thing As "Business" Ethics: There's Only One Rule for Making Decisions
John C. Maxwell
Retail Price: $14.95
LS Price: $10.17
You Save: $4.78 (32%)
Availability: Usually ships within 24 hours
Format: Hardcover, 160pp.
ISBN: 9780446532297
Publisher: Warner Books
Pub. Date: August 2003


Thinking for a Change: 11 Ways Highly Successful People Approach Life and Work
John C. Maxwell


Retail Price: $14.99
LS Price: $10.49
You Save: $4.50 (30%)
Availability: Usually ships within 24 hours
Format: Paperback, 288pp.
ISBN: 9780446692885
Publisher: Center Street
Pub. Date: July 1, 2005


The Winning Attitude Your Key To Personal Success
John C. Maxwell


Retail Price: $14.99
LS Price: $11.99
You Save: $3.00 (20%)
Availability: Usually ships within 24 hours
Format: Paperback, 223pp.
ISBN: 9780840743770
Publisher: Thomas Nelson
Pub. Date: September 1992


Winning With People : Discover the People Principles that Work for You Every Time
John C. Maxwell


Retail Price: $24.99
LS Price: $16.99
You Save: $8.00 (30%)
Availability: Usually ships within 24 hours
Format: Hardcover, 272pp.
ISBN: 9780785260899
Publisher: Thomas Nelson
Pub. Date: January 2005


Your Road Map for Success: You Can Get There from Here
John C. Maxwell


Retail Price: $14.99
LS Price: $10.19
You Save: $4.80 (32%)
Availability: Usually ships within 24 hours
Format: Paperback, 244pp.
ISBN: 9780785288022
Publisher: Thomas Nelson
Pub. Date: October 3, 2006