Becoming a Person of Influence
: How To Positively Impact the Lives of Others
John C. Maxwell
and Jim Dornan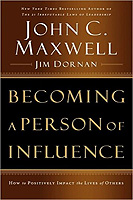 Format:
Paperback, 208pp.
ISBN:
9780785288398
Publisher:
Harpercollins Leadership
Pub. Date:
August 29, 2006
Average Customer Review:

For Bulk Orders Call: 626-441-2024

Description and Reviews
From
The Publisher:
Whatever your vocation or aspiration, you can increase your impact on others by Becoming a Person of Influence.
Learn simple, insightful ways to interact more positively with others, and watch your personal and organizational success go off the charts.
Managers will see their employees respond with new enthusiasm.
Parents will connect with their children on a deeper level.
Coaches will see players blossom.
Pastors will reach more people.
Salespeople will break records.
With influence, you can achieve success at home, at work, and in every other area of life.
Authors John Maxwell and Jim Dornan have spent most of their lives raising up influencers. With humor, heart, and unique insight, they share what they've gleaned from decades of experience in both business and nonprofit arenas. Best of all, their insights are practical and easy to apply to everyday life.
>Whether your desire is to build a business, strengthen your children, or reach the world, you can achieve it by raising your level of influence in the lives of others.

About the Author
John Maxwell
known as America's expert on leadership, is founder of the INJOY Group, an organization dedicated to helping people maximize their personal and leadership potential. Each year Maxwell speaks in person to more than 250,000 people and influences the lives of more than one million people through seminars, books and tapes. He is the best selling author of twenty-five books, including
The 21 Irrefutable Laws of Leadership, Failing Forward, Developing the Leader Within You,
and
The 21 Indispensable Qualities of a Leader.
He lives in Atlanta, Georgia.

Table of Contents
| | | |
| --- | --- | --- |
| | Preface | vii |
| | Acknowledgements | ix |
| | Introduction | 1 |
| 1 | A Person of Influence Has ... Integrity With People | 15 |
| 2 | A Person of Influence ... Nurtures Other People | 35 |
| 3 | A Person of Influence Has ... Faith in People | 59 |
| 4 | A Person of Influence ... Listens to People | 77 |
| 5 | A Person of Influence ... Understands People | 97 |
| 6 | A Person of Influence ... Enlarges People | 119 |
| 7 | A Person of Influence ... Navigates for Other People | 139 |
| 8 | A Person of Influence ... Connects With People | 161 |
| 9 | A Person of Influence ... Empowers People | 179 |
| 10 | A Person of Influence ... Reproduces Other Influencers | 199 |
| | Notes | 213 |

Customer Reviews
Write your own online review
.

Insightful and Engaging
December 10, 2006
Reviewer: LeAnn Bradshaw from Laurel, Maryland, United States
Maxwell and Dornan give a wonderful look into breaking down the traditional roles of a leader and are able to present a step by step guide that anyone could read. Anyone who wants to improve their lives and the lives of others needs to put this on their "must read" list! Superb!

Rebuilding the Basketball Program
December 12, 2006
Reviewer: Troy Noble from Chicago, Illinois, United States
I was a head college basketball coach who inherited a program that had been a losing program for years. After reading and implementing John Maxwell's book with my team our success grew and grew. In year #2, we went to the NJCAA National Tournament for the 1st time in school history. In year #3 we set school records for wins and team grade point average. I highly reccommend this book for all coaches, and athletes as well who wish to uplift the people around them and themselves in the process. It gave me a better understanding of how to motivate and allow others to self-govern and influence their peers. Nobody cares how much you know, until they know how much you care.

Find Items On Similar Subjects

All Items by John Maxwell

The 17 Indisputable Laws of Teamwork
: Embrace Them and Empower Your Team

The 21 Indispensable Qualities of a Leader

The 21 Irrefutable Laws of Leadership

Character Is Destiny:
The Value of Personal Ethics in Everyday Life

The Ascent of a Leader:
How Ordinary Relationships Develop Extraordinary Character and Influence

The Right to Lead
: A Study in Character and Courage