Resonant Leadership
: Renewing Yourself and Connecting with Others Through Mindfulness, Hope, and Compassion
Richard E. Boyatzis and Annie McKee with a foreword by Daniel Goleman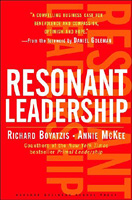 Format:
Hardcover, 240pp.
ISBN:
9781591395638
Publisher:
Harvard Business School Press
Pub. Date:
October 27, 2005
Average Customer Review:


For Bulk Orders Call: 626-441-2024

Description and Reviews
From
The Publisher:
The blockbuster bestseller
Primal Leadership
introduced us to "resonant" leaders, individuals who manage their own and others' emotions in ways that drive success. Leaders everywhere recognized the validity of resonant leadership, but struggled with how to achieve and sustain resonance amid the relentless demands of work and life.
Now, Richard Boyatzis and Annie McKee provide an indispensable guide to overcoming the vicious cycle of stress, sacrifice, and dissonance that afflicts many leaders. Drawing from extensive multidisciplinary research and real-life stories,
Resonant Leadership
offers a field-tested framework for creating the resonance that fuels great leadership.
Rather than constantly sacrificing themselves to workplace demands, leaders can manage the cycle using specific techniques to combat stress, avoid burnout, and renew themselves physically, mentally, and emotionally. The book reveals that the path to resonance is through mindfulness, hope, and compassion, and shows how intentionally employing these qualities creates effective and enduring leadership.
Great leaders are resonant leaders.
Resonant Leadership
offers inspiration-and tools-to spark and sustain resonance in ourselves and in those we lead.

Reviews
Building on the principles they laid out in their 2002 bestseller, Primal Leadership (coauthored with emotional intelligence expert Daniel Goleman), Boyatzis and McKee explain how managers and executives can employ mindfulness, hope and compassion to create—and maintain—exceptional business success. "Effective teams and powerful, positive organizational cultures do not happen by accident," they write; they are created by "resonant" leaders who employ emotional intelligence to motivate and nurture their employees. Yet resonance can be exhausting to maintain, the authors have found, and even outstanding leaders can turn dissonant under the pressure of chronic business stress. When that happens, they say, "rest and relaxation" aren't enough to restore a leader's emotional resilience. Drawing upon cognitive psychology, Buddhist philosophy and their own research, the authors propose a series of more effective remedies. Among them: cultivating "openness, curiosity and awareness" about oneself and others; visualizing a positive, realistic dream; and working to understand and improve the situations of others. Boyatzis and McKee argue convincingly that such practices can "favorably impact the bottom line while enabling leaders to sustain their effectiveness for longer periods of time." At a time when business leaders are under scrutiny for moral lapses on financial and social fronts, the exercises and arguments in this book can help executives learn to improve their interests by strengthening their ethics. 60,000-copy first printing.
—Publishers Weekly, Copyright © Reed Business Information, a division of Reed Elsevier Inc. All rights reserved.

About the Author
Richard Boyatzis
is Professor in the Department of Organizational Behavior at the Weatherhead School of Management at Case Western Reserve.
Annie McKeeis
Co-chair of the Teleos Leadership Institute and teaches at the University of Pennsylvania, Graduate School of Education. They are coauthors, with Daniel Goleman, of
Primal Leadership

Find Items On Similar Subjects

Becoming a Resonant Leader
: Develop Your Emotional Intelligence, Renew Your Relationships, Sustain Your Effectiveness

Why Should Anyone Be Led by You?
What It Takes to Be an Authentic Leader

Primal Leadership
: Realizing the Power of Emotional Intelligence

The One Thing You Need to Know
: About Great Managing, Great Leading, and Sustained Individual Success