The One Thing You Need to Know
: About Great Managing, Great Leading, and Sustained Individual Success
Marcus Buckingham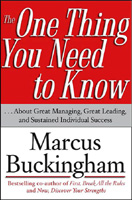 Format:
Hardcover, 304pp.
ISBN:
9780743261654
Publisher:
Free Press
Pub. Date:
March 8, 2005
Average Customer Review:

For Bulk Orders Call: 626-441-2024

Description and Reviews
From
The Publisher:
Following the success of Marcus Buckingham's previous major works, the principal author of
First, Break All the Rules
and
Now, Discover Your Strengths
offers a dramatically new way to understand the art of success.
With over 1.6 million copies of his landmark bestsellers in print, Cambridge-educated Buckingham is considered one of the most respected business authorities on the subject of management and leadership in the world. Now, with
The One Thing You Need to Know
, he gives readers an invaluable course in outstanding achievement—a guide to capturing the essence of the three most fundamental areas of professional activity.
Great managing, leading, and career success—Buckingham draws on a wealth of applicable examples to reveal that a controlling insight lies at the heart of the three. Lose sight of this "one thing" and even the best efforts will be diminished or compromised. Readers will be eager to discover the surprisingly different answers to each of these rich and complex subjects. Each could be explained endlessly to detail their many facets, but Buckingham's great gift is his ability to cut through the mass of often-conflicting agendas and zero in on what matters most, without ever oversimplifying. As he observes, success comes to those who remain mindful of the core insight, understand all of its ramifications, and orient their decisions around it. Buckingham backs his arguments with authoritative research from a wide variety of sources, including his own research data and in-depth interviews with individuals at every level of an organization, from CEO's to hotel maids and stockboys.
In every way a groundbreaking book,
The One Thing You Need to Know
offers crucial performance and career lessons for business people at all career stages.

Reviews
"Marcus Buckingham has a keen sense of what it takes to excel, and he backs his insights with an impressive body of in-depth interviews and research. This is an important book for anybody who aspires to effective leadership, managing, or any kind of enduring individual achievement."
—Richard M. Kovacevich, chairman, president, and CEO, Wells Fargo and Company
Buckingham perfroms the most magical of acts: He speaks with surpassing common sense, yet reaches profoundly uncommon conclusions. This is a wise—and radical—book; a true gem worth savoring."
—Tom Peters


Reader's Index
Send us your favorite quotes or passages from this book
.
• "Putting these conclusions together, this controlling insight can serve as the One Thing you need to know about happy marriage: Find the most generous explanation for each other's behavior and believe it. Love begins with positive illusions, but in strong marriages, these positive illusions do not give way to a dispassionately accurate understanding of each other's strengths and weaknesses. Instead these positive illusions weave their strength into the fabric of the relationship, until they actually become the relationship. They make themselves come true. Stated more bluntly, your positive illusions will make your love last." Pg. 22
• "Effective leaders don't have to be passionate. They don't have to be charming. They don't have to be brilliant. They don't have to possess the common touch. They don't have to be great speakers. What they must be is clear." Pg. 197

About the Author
Marcus Buckingham
graduated from Cambridge University in 1987, with a master's degree in Social and Political Science. During his 17 years with The Gallup Organization, Buckingham helped lead research into the world's best leaders, managers, and workplaces. He drew on this research and used it as the basis for two bestselling books:
First, Break All the Rules: What the World's Best Managers Do Differently
and
Now, Discover Your Strengths
, of which he was both the writer and principal author.
A subject of in-depth profiles in
The New York Times, Fortune
, and
Fast Company
, Buckingham, now an independent consultant, author, and speaker, is considered one of the world's leading authority's on employee productivity and the practices of leading and managing. He is a member of the Secretary of State Advisory Committee on Leadership and Management. He lives with his wife and two children in Los Angeles.

Table of Contents
1
A Few Things You Should Know About the "One Thing"
1
Part I
The One Thing You Need to Know
Sustained Organizational Success
2
Managing and Leading: What's the Difference?
29
3
The One Thing You Need to Know: Great Managing
73
4
The One Thing You Need to Know: Great Leading
127
Part II
The One Thing You Need to Know
Sustained Individual Success
5
The Twenty Percenters
201
6
The Three Main Contenders
227
7
So, How Do You Sustain Success If...?
261
Conclusion: Intentional Imbalance
281
Acknowledgments
287

Find Items On Similar Subjects

Now, Discover Your Strengths

First, Break All the Rules

Go Put Your Strengths to Work
: 6 Powerful Steps to Achieve Outstanding Performance