Primal Leadership
: Realizing the Power of Emotional Intelligence
Daniel Goleman, Richard Boyatzis and Annie McKee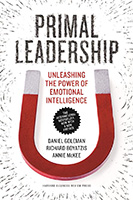 Format:
Hardcover, 305pp.
ISBN:
9781633692909
Publisher:
Harvard Business School Press
Pub. Date:
November 15, 2016
Average Customer Review:

For Bulk Orders Call: 626-441-2024

Description and Reviews
From
The Publisher:
Daniel Goleman's international bestseller
Emotional Intelligence
forever changed our concept of "being smart," showing how emotional intelligence (EI)-how we handle ourselves and our relationships-can determine life success more than IQ. Then,
Working with Emotional Intelligence
revealed how stellar career performance also depends on EI.
Now, Goleman teams with renowned EI researchers Richard Boyatzis and Annie McKee to explore the role of emotional intelligence in leadership. Unveiling neuroscientific links between organizational success or failure and "primal leadership," the authors argue that a leader's emotions are contagious. If a leader resonates energy and enthusiasm, an organization thrives; if a leader spreads negativity and dissonance, it flounders. This breakthrough concept charges leaders with driving emotions in the right direction to have a positive impact on earnings or strategy.
Drawing from decades of analysis within world-class organizations, the authors show that resonant leaders-whether CEOs or managers, coaches or politicians-excel not just through skill and smarts, but by connecting with others using EI competencies like empathy and self-awareness. And they employ up to six leadership styles-from visionary to coaching to pacesetting-fluidly interchanging them as the situation demands.
The authors identify a proven process through which leaders can learn to:
· Assess, develop, and sustain personal EI competencies over time
· Inspire and motivate people
· Cultivate resonant leadership throughout teams and organizations
· Leverage resonance to increase bottom-line performance
The book no leader in any walk of life can afford to miss, this unforgettable work transforms the art of leadership into the science of results.




Reviews

"Daniel Goleman has done it again! After writing two major bestsellers on emotional intelligence, he has teamed up with Richard Boyatzis and Annie McKee to produce another winner-a fascinating account of how emotions are at the heart of effective leadership. Filled with practical advice backed up by research, this book is a gem, smart reading for students and leaders alike."

—David Gergen, Professor of Public Service and Director, Center for Public Leadership, John F. Kennedy School, Harvard University
"Sound and practical advice on leading effectively, based on science and business experience, from the leader in the field of emotional intelligence."
—Martin Seligman, Fox Leadership Professor of Psychology, University of Pennsylvania
"If I had read
Primal Leadership
ten years ago, I still might be President of Columbia Pictures today!"
—Lisa Henson, President, Jim Henson Productions
"This powerful book freshly imagines a new and necessary kind of working environment where matters of the heart have equal significance with matters of the mind. Absolutely required reading for leaders everywhere."
—Warren Bennis, Distinguished Professor of Business, University of Southern California
"A valuable leadership guidebook-for individuals and organizations-that can help you turn emotional intelligence from concept to reality."
—Robert L. Joss, Dean, Graduate School of Business, Stanford University
"Easy to read and packed with insight, this carefully researched book provides a solid road map for all leaders who are working to better themselves."
—Bob Mulholland, Senior Vice President and Head of Client Relationship Group, Merrill Lynch

About the Authors
Daniel Goleman
is Co-Director of the Consortium for Research on Emotional Intelligence in Organizations at Rutgers University.
Richard Boyatzis
is Professor of Organizational Behavior and Chair of the Department of Organizational Behavior at the Weatherhead School of Management at Case Western Reserve University.
Annie McKee
is Director of Management Development Services, North America, at the Hay Group.

Table of Contents
| | | |
| --- | --- | --- |
| | Preface | ix |
| | Acknowledgments | xv |
| Part I | The Power of Emotional Intelligence | |
| 1 | Primal Leadership | 3 |
| 2 | Resonant Leadership | 19 |
| 3 | The Neuroanatomy of Leadership | 33 |
| 4 | The Leadership Repertoire | 53 |
| 5 | The Dissonant Styles: Apply with Caution | 71 |
| Part II | Making Leaders | |
| 6 | Becoming a Resonant Leader: The Five Discoveries | 91 |
| 7 | The Motivation to Change | 113 |
| 8 | Metamorphosis: Sustaining Leadership Change | 139 |
| Part III | Building Emotionally Intelligent Organizations | |
| 9 | The Emotional Reality of Teams | 171 |
| 10 | Reality and the Ideal Vision: Giving Life to the Organization's Future | 191 |
| 11 | Creating Sustainable Change | 225 |
| | Appendix A EI versus IQ: A Technical Note | 249 |
| | Appendix B Emotional Intelligence: Leadership Competencies | 253 |
| | Notes | 257 |
| | Index | 291 |
| | About the Authors | 305 |

Customer Reviews
Write your own online review
.

A great book for everyone...mothers, bosses, students, etc.
February 7, 2003
Reviewer: from Silicon Valley, CA United States
This book is excellent. I got the book on tape. The research and brain anatomy is fascinating. I cannot keep my ears off this book on tape. I learn several new concepts at every listening. There was one agrument made trying to compare a marriage to a worker-boss relationship, which does not appeal to me...my marriage is much more sacred and to think of my marrige in business terms turns my stomach. This book is not just for leaders in organizations, it would be helpful and fascinating for many different roles - motherhood, students, teachers, etc.

Find Items On Similar Subjects

Primal Leadership
-
Paperback

Emotional Intelligence

Resonant Leadership
: Renewing Yourself and Connecting with Others Through Mindfulness, Hope, and Compassion