Presence
: Human Purpose and the Field of the Future
Peter M. Senge, C. Otto Scharmer, Joseph Jaworski and Betty Sue Flowers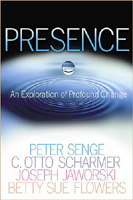 Format:
Paperback, 304pp.
ISBN:
9780385516303
Publisher:
Doubleday Business
Pub. Date:
January 15, 2008
Average Customer Review:

For Bulk Orders Call: 626-441-2024

Description and Reviews
From
The Publisher:
How would the world change if we learned to access, individually and collectively, our deepest capacity to sense and shape the future? This is just one of the questions posed by the authors of a book that combines unusual personal honesty with rigorous critical thinking.
Presence: Human Purpose and the Field of the Future
gives the reader an intimate look at the development of a new theory about change and learning. In wide-ranging conversations held over a year and a half, Senge, Scharmer, Jaworski, and Flowers explore their own experiences and those of one hundred and fifty scientists and social and business entrepreneurs in an effort to explain how profound collective change occurs. Their journey of discovery articulates a new way of seeing the world, and of understanding our part in creating it-as it is and as it might be.
Radical and hopeful, Presence synthesizes leading-edge thinking, first-hand knowledge, and ancient wisdom to explore the living fields that connect us to one another, to life more broadly, and, potentially, to what is "seeking to emerge." Seven capacities underlie our ability to see, sense, and realize new possibilities. Developing these capacities accesses a deeper level of learning that is the key to creating change that serves the whole-ourselves, our organizations, and the communities of which we are a part.


Reader's Index
Send us your favorite quotes or passages from this book
.
• "Most change initiatives that end up going nowhere don't fail because they lack grand visions and noble intentions. They fail because people can't see the reality they face." Pg. 29

About the Authors
Peter Senge
is a senior lecturer at the MIT Sloan School of Management, and the Founding Chair of SoL, the Society for Organizational Learning. He is the author of the widely acclaimed book, The Fifth Discipline: The Art and Practice of the Learning Organization (1990), which has sold a million copies worldwide and was identified as one of the seminal management books of the last seventy-five years by Harvard Business Review in 1997. He is coauthor of The Fifth Discipline Fieldbook (1994), with colleagues Charlotte Roberts, Rick Ross, Bryan Smith, and Art Kleiner; a second fieldbook on sustaining change, The Dance of Change (1999), with George Roth as an additional coauthor; and the award-winning Schools That Learn (2000), coauthored with Nelda Cambron-McCabe, Timothy Lucas, Bryan Smith, Janis Dutton, and Art Kleiner.
Peter is widely known as one of the most innovative thinkers about management and leadership in the world, translating the abstract ideas of systems theory into tools for better understanding economic and organizational change. His work today focuses on fostering collaboration among diverse business, governmental, and nongovernmental organizations in order to address long-term systemic change that is beyond the reach of individual organizations. He received a B.S. in engineering from Stanford University, a M.S. in social systems modeling, and a Ph.D. in management from MIT. He lives with his wife and children in central Massachusetts.
C. Otto Scharmer
is a Lecturer at the Massachusetts Institute of Technology, a Visiting Professor at the Helsinki School of Economics, co-founder of SoL and the Global Leadership Initiative, and author of the forthcoming book Theory U: Leading From the Emerging Future.
Joseph Jaworski
is the chairman of Generon Consulting and cofounder of the Global Leadership Initiative, founder of The American Leadership Forum, and author of the critically acclaimed Synchronicity: The Inner Path of Leadership (Berret Koehler, 1996).
Prior to her current role as the director of the Johnson Presidential Library and Museum,
Betty Sue Flowers
was a professor of English at the University of Texas at Austin and an international business consultant.

Table of Contents
Introduction: Of Parts and Wholes
3


Part 1 • Learning to See
1
The Requiem Scenario
21
2
Seeing Our Seein
27
3
Seeing From the Whole
41
4
Seeing With the Heart
53


Part 2 • Into the Silence
5
The Generative Moment
71
6
An Emerging Understanding
83
7
The Eye of the Needle: Letting Go and Letting Come
93
8
The Wedding
105
Introduction

Part 3 • Becoming a Force of Nature
9
In the Corridor of Dreams
117
10
The Grand Will
135
11
In Dialogue with the Universe
149
12
Realizing and the Craft of Institution Building
167


Part 4 • Meeting Our Future
13
Leadership: Becoming a Human Being
183
14
Science Performed with the Mind of Wisdom
193
15
Presence
219
Epilogue: "With Man Gone, Will There Be Hope For Gorilla?"
241


Notes


255
Acknowledgments
269
About the Authors
273
About the Organizations
277
Index
279

Find Items On Similar Subjects

Presence
: An Exploration of Profound Change • Hardcover

Theory U
: Leading from the Future as It Emerges

The Forgotten Half of Change
: Achieving Greater Creativity through Changes in Perception

The Fifth Discipline
: The Art and Practice of the Learning Organization

The 2,000 Percent Solution